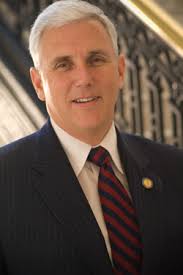 Vice President Mike Pence said on Thursday that Washington wants to peacefully dismantle North Korea's nuclear programme but warned Pyongyang not to underestimate U.S. military strength or resolve.
"Our forces are ready and our nation is resolved," Pence said in a speech to U.S. troops at the Yokota Air Base in Japan, as he prepared to fly to South Korea to attend the Winter Olympics.
"The U.S. will always seek peace, we will ever strive for a better future, but you the instruments of American power know and let our adversaries know all options are on the table.
"America stands strong with the proud and free people of South Korea and we always will," said.
Pence, who arrived in Japan on Tuesday to meet Japanese Prime Minister, Shinzo Abe, is traveling to South Korea Thursday to attend the Pyeongchang Winter Olympics opening ceremony, just 80 km (50 miles) from the heavily armed border with North Korea.
Two of North Korea's most senior officials will also be there.
On Wednesday Pence said Washington will soon impose its harshest-ever sanctions on Pyongyang.
After a year of escalating rhetoric between the Pyongyang and Washington, tensions on the Korean peninsula have eased after the North's leader Kim Jong Un said in a New Year's address he was willing to open discussions with Seoul.
Since then the North has agreed to take part in the South's Winter Olympics with a combined women's ice hockey team from both sides, and Kim Yo Jong, the 28-year-old sister of the North Korean leader, will attend the opening ceremony.
South Korea wants to use the Olympics to re-engage with North Korea and open the way for talks to resolve one of the world's most dangerous crises.
North Korea last tested a missile in November, 2017.
The intercontinental ballistic missile, the Hwasong-15, is believed to be capable of reaching the continental
U.S., but the North is not yet believed to have the capability to mount a nuclear warhead on a ballistic missile.
In another development, China's foreign minister Wang Yi said Beijing hopes North and South Korea can keep the momentum of interaction going and gradually open the door to peace on the peninsula.
Yi was speaking at a briefing in Beijing a day before the Winter Olympic Games begin formally in Seoul, where North Korean athletes are set to compete.
South Korea hopes the Games will be an opportunity to re-engage with the North and open the way for talks to resolve one of the world's most dangerous crises.
Load more