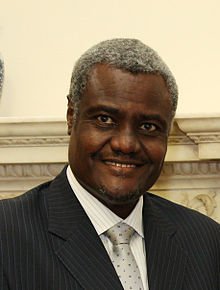 The Chairperson of the African Union (AU) Commission, Moussa Faki, said on Thursday that the accusations that China is spying on the AU are mere rumours.
Faki during his first visit to China since he assumed office in March 2017 made the remarks while co-hosting the 7th China-AU strategic dialogue with Chinese Foreign Minister Wang Yi in Beijing.
"The ties between China and AU were "unshakable," and such reports could not damage their relations.
"The AU is an international organisation not a defence agency with top-secret data, it was impossible for China to spy on the AU in light of the cooperation between the two sides.
"Now we are willing to cooperate more with China to benefit African people, and such rumours will not distract us," he said.
African Union Chairman Rwanda's President Paul Kagame on Jan. 30 said that he wished that the AU, rather than China built the organisation's headquarters following allegation that Beijing bugged the building.
Kagame has, however, said that he is not concerned about the reports a Rwandan journalist had tweeted.
He quoted Kagame as saying that "everybody spies" and he wished that the AU, rather than China, built the headquarters, adding: actually we want all to know what we say inside.
Meanwhile, China has dismissed the reports as "preposterous".
Chinese ambassador to the AU Kuang Weilin had told reporters in Ethiopia that the "absurd" claim in France's Le Monde was "very difficult to understand".
He spoke out three days after the newspaper published an article claiming data from the Chinese-built AU building was being copied to Shanghai.
The article said the discovery resulted in all the AU servers being switched.
Le Monde spoke to a number of anonymous sources, who claimed the alleged transfer was taking place late at night.
It claimed that the transfer was only spotted in January 2017 due to the spike in activity between midnight and 02:00, despite no-one being in the building.

Load more