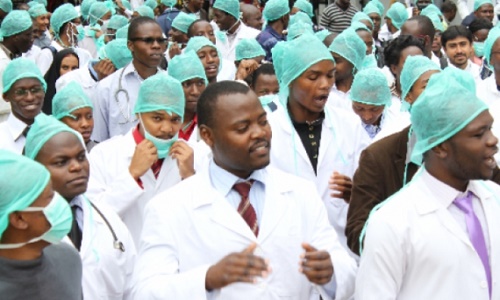 The University of Jos on Thursday inducted 155 new medical doctors that had obtained degrees in medicine and surgery from the institution's Faculty of Medicine.
In a brief speech at the ceremony,Prof. Sebastian Maimako, the Vice-Chancellor, advised the new medical doctors to abide by the rules guiding medical practice.
"Your role as medical doctors is very crucial to humanity. You are trained to save lives.
"You should never compromise that very important role and rule; you should always remember your oath and respect it," he said.
READ: Nigerian women urged to challenge harmful traditional practices in court
Maimako said that the school would continue to train quality human capital that would meet Nigeria's health care needs.
He expressed confidence that the medics would be assets to the society, and promised to work harder toward improving the quality of doctors trained in the school.
The oath taking was administered by Dr. A. B. Sanusi, the Registrar, Medical and Dental Council of Nigeria.
The Registrar advised the new health officials to see their training as a divine call to serve humanity.

Load more