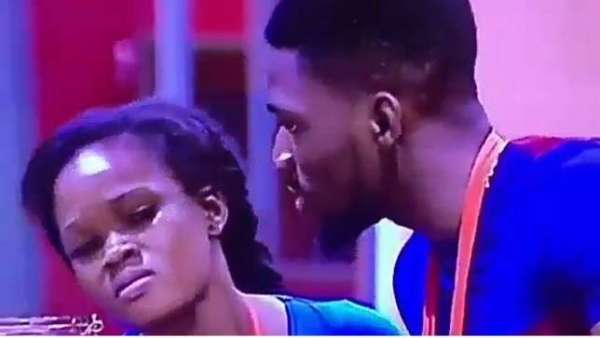 Some viewers of the ongoing reality show, BBNaija `Double Wahala" have launched prayers on Twitter to save Tobi Bakre, the head of the house, perceived to be under the `spell' of Cynthia Nwadiora a.k.a Cee-C, one of the female housemates.
The prayers which was launched on Tuesday, is currently trending, with thousands of retweets with the hashtag #PrayforTobi.
It features series of tweets hoping that Tobi does not get evicted soon because of his 'unhealthy' attachment to Cee-C.
Tobi, who is Head of House for the second time, chose Cee-C as the housemate to share his luxury with.
The two housemates were also paired under the pseudonym 'Ceebi', just like other housemates, as part of the game plan for this season.
During the dairy session, most of the housemates described Cee C as 'rude' and 'possessive' including Bitto, who said she (Cee-C) is the Delilah to Tobi's (Samson syndrome.)
Cee-C has also been perceived by the viewers and other housemates as `milking' the situation to her advantage, as she continuously turns down Tobi's romantic gestures and controls his every moves and decisions.
On Thursday, housemates accused Cee-C of limiting Tobi's role as Head of House as she is always with him and influences his decision making.
The complaint by other housemates has also heightened the #PrayforTobi campaign as viewers are hoping and praying Tobi will be `free from the grips' of Cee-C soon enough before he gets evicted.
Below are some of the interesting tweets: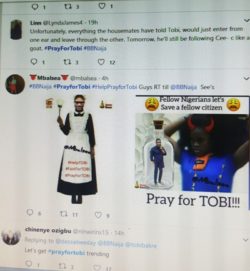 @Stevewnchuks wrote: "I really like this guy! I just pray they cancel the pairing upper week! Pray for him. #PrayforTobi."
@Khamillah tweeted: "Ladies, if you are looking for how to tie your man down, ask Cee-C. #PrayforTobi."
@DERA!!! Said: "#PrayforTobi, please tag as many prayer warriors as you know to join in this prayer!! The captive must be set free!"
@Austin wrote: "This Cee-C girl is evil i swear. I really don't understand anymore but I feel Tobi is just in love and is not under any kind of spell.
Tobi is a perfect example of depression and frustration now. #PrayfortTobi"
@Lavender tweeted: "The only thing Tobi can do for himself now is not win HOH hask so that he can get evicted and can be able to see clearly.
This Cee-C is eating upp his brain a lot and if he stays longer, it will kill him. #PrayforTobi."
This year's show tagged 'Double Wahala' features 20 housemates who are battling for the prize money of 45 million naira.

Load more