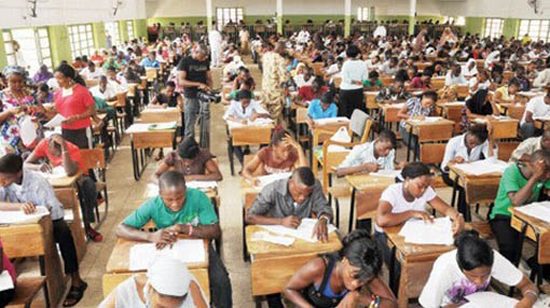 Worried by West African Examination Council (WAEC)'s banning of 47 secondary schools from serving as examination centres following incessant malpractices, the Kogi government has adopted stringent measures to check the trend.
Its education commissioner, Rosemary Osikoya, at a meeting with principals of affected schools on Friday in Lokoja, said that the stiff measures would curb the menace, restore integrity and uphold the tenets of the teaching profession.
She directed the 47 indicted schools to pay N250,000 each, to WAEC as fine, adding that none of them would be allowed to conduct Senior Secondary School Certificate Examinations in 2018.
"All students in the indicted schools will be moved to other centres for the 2018 examination.
"The process of transferring students has also been well articulated; there must be proper documentations. All principals must monitor their students and teachers to ensure that they do the right thing.
"No student is allowed to move to another school in the final year; transfers will only be accepted in SS1 or SS2 henceforth. Any principal that flouts this order shall be prosecuted," she said.
Speaking at the meeting, Dr. Natty Bobai, the Branch Controller of WAEC in Kogi, warned that the Council would not condone any act of examination malpractice, saying that everything would be done to curtail the menace.
READ: Alleged corruption: Private school owners part ways with NAPPS
"WAEC does not have any centre called "Miracle Centre"; the council is uncomfortable with this menace in our schools, especially in Kogi, which tops the list of examination malpractice out of the 36 States."
He noted, however, that teaching staff, infrastructure and other examination facilities were grossly inadequate in schools, and called for improvement by the state government.
On his part, Dr. Mathias Okpala, the State Officer of National Examination Council (NECO), said that nobody should be exonerated on the issue of examination malpractice, stressing that everybody and many factors were involved.
According to Okpala, there are three categories of examination malpractice – before, during and after the examination.
"What we need urgently is a re-orientation of our value system, especially as it affects our education," he said.
Representatives of other stakeholders like the National Teachers Institute (NTI), All Nigeria Conference of Principals of Secondary Schools (ANCOPSS), also spoke at the meeting.
A principal of one of the indicted schools, Mr Jimoh Mohammed, tendered an apology on behalf of others, urging the commissioner to temper justice with mercy while promising a change of attitude henceforth.

Load more