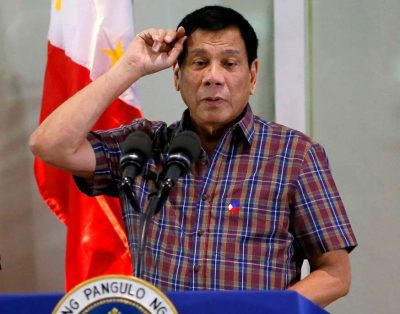 President Rodrigo Duterte of Philistines on Friday said that the ban on deployment of Filipino workers to Kuwait will stay and threatened to take "drastic measures" if the abuses continue.
Duterte made the announcement during a press conference in Davao City, lamenting the death of seven Overseas Filipino Workers (OFWs) in the Gulf state saying "the ban continues today, and I don't know up to what time."
"We do not intend to offend any government, but if a ban is what is needed, then let it be so.
"The ban continues today."
Duterte appealed to the Arab nations to treat Filipino workers with dignity and respect, "a review of the incidence of violence committed against Filipino workers overseas, especially in Kuwait, is so repugnant.
"It compels us to ask what we in the government has been doing all these years to give justice to them.
"The Filipino is no slave to anyone, anywhere and everywhere,every unlawful physical injury inflicted on an OFW is an injury I personally bear as the head of this republic."
"Every unlawful physical injury inflicted on an OFW is an affront against us as a sovereign nation," he said.
The president said he fumed after reading news reports about the death of a Filipino woman whose body was found inside a freezer at an abandoned apartment in Kuwait. "I cannot stomach it."
Duterte asked Kuwait "What are you doing to my countrymen? And if I were to do it to your citizens here, would you be happy.
"Is there something wrong with your culture? Is there something wrong with the values".
Nevertheless, Duterte, who met the Kuwaiti Ambassador Musaed Saleh Althwaikh on Thursday, said he was planning to visit Kuwait "to plead my case".
Labour Secretary Silvestre Bello had in January ordered the Philippine Overseas Employment Administration "to stop the processing and issuance of overseas employment certificates (OECs) to all Kuwait-bound workers pending the investigation of the cause of deaths of the Filipino workers."
"We would like to seek justice for our OFWs, and while the investigation is undergoing, we are suspending the processing and issuance of OECs.
"We are doing this for utmost protection and welfare of our Kababayan," Bello said.
The victims, all women, were working as "household services workers", and were deployed in 2016.
According to the government records, there are approximately 250,000 Filipinos working in Kuwait, 75 per cent of who are domestic helpers.
Some 300 Filipinos continue to apply for work in Kuwait every day.
The Philippine is one of the primary sources of domestic workers abroad, including Singapore, China's Hong Kong and the Middle East like Qatar, Saudi Arabia and the United Arab Emirates.
Many of the workers reportedly suffer sexual abuse from their male employers.
The abuse of many Filipino women workers are often Duterte's topic in his speeches.

Load more