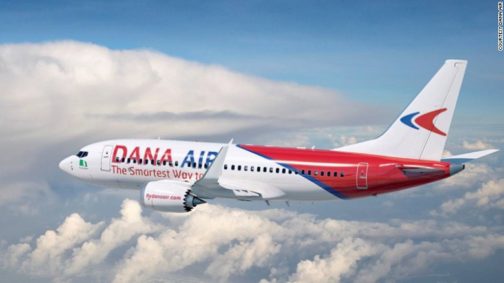 Alarmed passengers say they were terrified when one of the emergency exit doors fell off a plane as it landed in Nigeria's capital, Abuja.
Passengers took to social media to document their experiences aboard the Dana Airlines aircraft Wednesday.
Ola Orekunrin, a doctor from Lagos, tweeted that the "exit door fell off" the Nigerian airliner as they touched down in the city on their 6.48 am flight from Lagos to Abuja.
She added that the door had been "unstable throughout the flight."
Ola Brown(Orekunrin)
@NaijaFlyingDr
Flew Dana. Exit door was unstable throughout the flight. As we touched down it fell off. Scary stuff.
Igah Dagogo was also traveling on the same flight. He told CNN he noticed the emergency exit door was not properly latched before takeoff in Lagos.
"I was one foot away from the emergency exit door, so I could see the handle was popping out," Dagogo said.
"We informed one of the air hostesses who insisted that it was locked," he added.
Dagogo said the plane had just taxied on the runway when the door came unhinged and almost hit a passenger.
"We were in the process of landing, that was when the door just opened. The white man by the door had to shift because the door would have hit him. When he shifted the door now fell on the floor of the plane."
"Maybe it was breeze, but the door came off completely and the passengers came to check and began shouting and taking photos. I wonder what would have happened if the door fell off mid-air."
CAB van der Vinne
@JoopvanderVinne
Replying to @NaijaFlyingDr
Scary. Another airliner off my list..
15:57 – 7 Feb 2018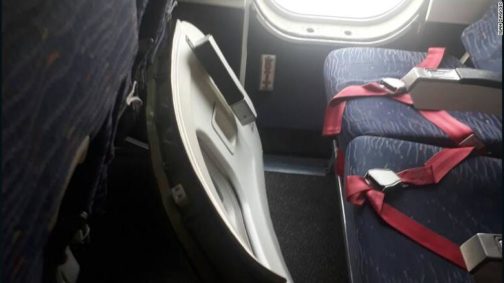 Dagogo said crew members tried to calm passengers' nerves and one of them complained to the pilot who said he should have been informed before takeoff.
Dana Airlines responded to the reports with a statement.
Dana Airlines Ltd.
@DanaAir
Aircraft doors cannot fall off without conscious efforts to open it,' Dana enlightens media… https://fb.me/2Ho3yPX7n
14:22 – 7 Feb 2018
DANA Air today debunked falsehood alleging that the door of one of its aircraft fell off after landing and whilst taxing in Abuja earlier today. Some online publications had started posting reports…
nigerianflightdeck.com
"We wish to state categorically that this could never have happened without a conscious effort by a passenger to open it," it said.
The airline also said when the aircraft is airborne, the seat or door could not be "shaking" as Brown had said because it is "fully pressurized."
"A thorough inspection was however carried out on the said aircraft upon landing in Abuja by our engineers and a team from the Nigerian Civil Aviation Authority (NCAA), and no issue was reported.
There was also no threat to safety at any point."
"A thorough investigation of the concerned passenger is ongoing."
Dana Airlines commenced operations in Nigeria in November 2008.
In June 2012, one of its Boeing aircraft slammed into a two-storey residential building in a densely populated neighborhood of Lagos, Nigeria's largest city.
More than 160 people died. An investigation determined mechanical failure and pilot error were to blame.
After Wednesday's incident, Nigerians seized the opportunity on social media to express their disappointment with the country's aviation industry.
DapoSanwo
@DapoSanwo
Replying to @NaijaFlyingDr @thagaucho
Abeg
If there is a class action lawsuit against Dana for gross negligence and endangering the lives of passengers. I want in, I also was on that flight : 25d : The Door Panel was loose indicative of lack of maintenance.
09:32 – 7 Feb 2018
Surprisingly, Dagogo took Dana's evening flight back to Lagos the same day
"Seven of us who flew in with the morning flight came back to Lagos with the evening flight."
"I'll take any flight that suits my time. It's God that determines my fate," he said.

Load more