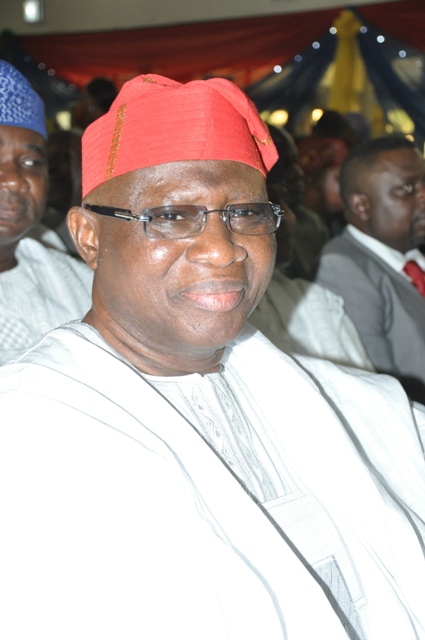 Lagos State Governor, Mr Akinwunmi Ambode has installed three Obas in one day at Ajala in Badagry area of Lagos and called on them to lead as role models in their various communities and as custodian of cultural heritage.
He also urged them to secure the state government infrastructure in their domains.
Ambode spoke on Sunday during the installation and presentation of staff of office and instrument of appointment to the three traditional rulers who were elevated from Baale to the status of Obaship by the state government in their domains in Badagry Local Government Area of the State.
The governor, who was represented by the Commissioner for Local Government and Community Affairs, Muslim Folami stated that the roles of the royal fathers were seen as leaders that bring betterment to their communities so that their subjects could benefits from state government's projects and policies when the needs arises.
"Today's occasion is very historic, this is the first time I will install three obas in the same Local Government in the State. We are gathered here to honour the request and yearning of the people of the three communities in Badagry LGA by installing the Aholu Agano Toniyon 1, as the Aholu of Ajara Agamathen; Aholu Samuel Amosu Owolabani as Aholu of Ajara Topa and Aholu Koshoedo Ebenezer Ahisu as Aholu of Ajara Vetho which made the installation at this administration to 21 obas and 128 baales and chiefs so that the government policies and programmes would be disseminated at the level," he said.
He, therefore, enjoined residents to embrace all government projects and the tourists centres which had already been rehabilitated for domestic and foreign investors, saying that the present administration had promised to make Badagry a tourist haven because of its historical monuments and its proximity to other ECOWAS countries, part of which is the face-lift of 154 year old Badagry, Heritage Museum, Public Library, the massive edifice of old slave port known as point of no return, first storey building and the ongoing deep sea port project.
He, however, charged residents to ensure that they did their civic responsibilities by paying their levies and taxes as at when due this will assist government to provide more infrastructural development in the state.
Permanent Secretary, Local Government and Community Affairs, Mr Fola Padonu noted that the installation was in line with the registered declaration regulating the selection of the stool and the upgrading.
He added that before the elevation of the three baales to obaship stool, the state government received the report of the Chieftaincy Tribunal after due process and approval was given for the Installation and presentation of staff of office.
Special Adviser to the Governor on Communities and Communications, Akeem Sulaimon noted that Ajara Community had made history by installing three kings in a day, saying that it would help to reach people at the grassroots.
He added that crowning of the three kings would usher in rapid development to the kingdom.
Speaking at the occasion, the royal fathers expressed their profound appreciation to Ambode for the honour bestowed on them just as they pledged their support to the state government

Load more