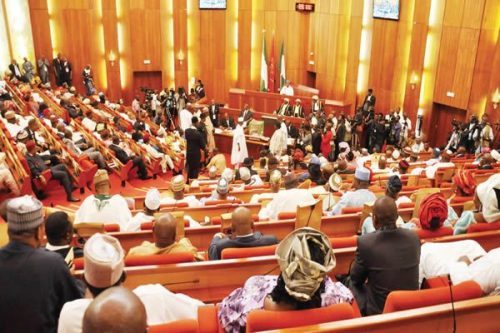 Some senators on Monday said there was an urgent need for Federal Government to re-address security challenges in the country and begin a healing process for the people.
The lawmakers made the call on the sideline of the National Security Summit organised by the Senate in Abuja.
They expressed optimism that the summit would give Nigerians the result they wanted in terms of security and said that practical and verifiable options were crucial in tackling insecurity.
Sen. Victor Umeh said "contributors continue to highlight the need for government to tackle the root causes of insecurity in the country.
"It is not enough when these things escalate we begin to adopt fire brigade approach and to ask questions why are these things happening.
"Things start gradually and snowball into a big problem and if you don't tackle it from the beginning, it will continue to pose serious challenges to the country.
"There is the need for the country to start a healing process by going back to those things that agitate the minds of the people, things that make people to protest.
"There are all kinds of demands being made, some restructuring; some people talking about how they were left behind in the affairs of the country.
"Go to the people, dialogue with them and bring the confidence in government back," Umeh said.
According to him, when people don't have confidence in the country, all kinds of challenges will continue.
"So, we need to adopt a holistic approach by going back to the people and find why they are angry and when people are complaining of any serious issue, we should stop ignoring them.
"It is good to take them on anytime they raise their head, there are so many genuine grievances in the country and from the positions being presented today people are thinking about what next to do.
"Do we go back to the parliamentary system of government so that everything centres on power-sharing and there is disaffection among Nigerians, and if Nigeria continues this way the future will be very bleak.
"There is the need to make everybody have a sense of belonging so that in moving forward, all of us will be acting as one nation, one people.
"It is true that we come from different ethnic nationalities but the way we do things can unite us," he added.
On his part, a member of Senate Committee on Security and National Intelligence, Dr Sam Egwu, said that security required collaborative efforts by all.
According to him, everybody is in danger and we don't have to leave that to the executive alone.
"As an arm of government, we have to contribute our quota by trying to find out means to avert the serious dangers we find ourselves as a country," Egwu said.
He said that the committee was committed to practical solutions to the security challenges.
"We don't intend to end with the summit because it may turn out to be a talk show.
"After hearing from the security chiefs and the stakeholders, we want to return to the various geopolitical areas and meet with some critical stakeholders like the civil society groups and religious bodies.
"And, after getting the vital information, we shall go back to security chiefs one-on-one and we will be able to make our own submission.
Sen. Ali Wakili said that equity and justice were crucial in addressing security issues in the country.
He said "tropical issues have been brought up to help those of us in the Senate to think when issues of insecurity cropped up," Wakili said.

Load more