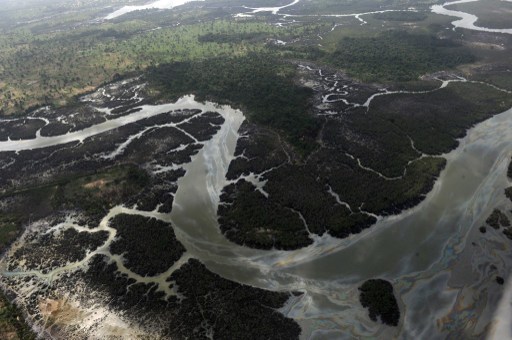 The communities affected by the Shell Nigeria Exploration and Production Company (SNEPCo) Bonga crude oil spills have appealed to the Federal Government, individuals and corporate bodies to assist them with relief materials.
The communities, under the aegis of "Shoreline Communities of Nigeria" made the appeal in a press statement made available to newsmen on Monday in Warri, Delta.
The statement was signed by Mr Mathias Palimote, representing Lagos state; Mr Austin Ofoeyemo, Delta; Mr Jacob Palimote, Bayelsa; Mr Harry Fombo, Rivers; Mr Godwin Ojajune, Ondo and Papa Bamigboye, Ogun.
According to them, the appeal was to cushion the effect of the December 2011 and July 2017 SNEPCo Bonga crude oil spill on the people.
They alleged that the harmful chemicals Shell sprayed to dispel the spills had contaminated and disrupted the natural ecological resources and fishing activities in the affected communities.
According to the statement, the spills have caused major sicknesses, deaths and hunger and have ravaged 730 communities in 21 Local Government Areas of Bayelsa, Rivers, Delta, Ondo, Ogun and Lagos States.
"So we are appealing that the Federal Government, National Assembly, European Union, United Nations, Central Bank of Nigeria, Corporate Organisations and the international community should come to our rescue.
"They should kindly and urgently intervene by assisting our communities and people with relief materials, fishing nets, accessories, boats, boreholes and health centres in each of the affected 21 Local Government, so as to cushion the effects of the pollutants, pending the restoration of the contaminated natural resources, fishing grounds, dead aquatics and when Shell will pay compensation to our communities," the statement read.

Load more