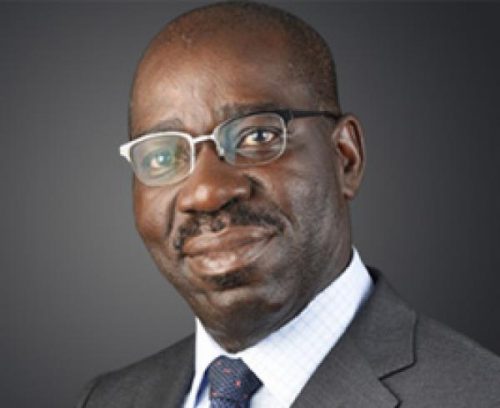 Jethro Ibileke/Benin
Governor Godwin Obaseki of Edo State Monday admonished farmers and residents of the State not be scared out of their farms by activities of some bad eggs among nomadic herdsmen.
Obaseki, who stated this at a symposium organized by the Correspondent Chapel of the Nigeria Union of Journalists (NUJ), Edo State Council, however declared that not all herders are killers.
The symposium was titled: "Sustainable Agriculture as a Panacea to Herdsmen Attack on Arable Crop Farmers in Nigeria."
The governor who was represented by the Special Adviser on Food Security and Agriculture, Mr. Joe Okoje, disclosed that a 7-man committee which includes Divisional Police Officers (DPOs) and DSS, has been inaugurated in each of the 18 local government areas of the State to address the menace.
He said his administration has stepped up plans to address the menace of herdsmen/farmers clash, part of which he said, is the banning of night crazing and arms-carrying herdsmen in the State.
"Not all herdsmen are killers. Some of them are doing genuine business. We should not allow the bad herdsmen's activities scare us from our farms.
"In every society, you have the good, bad and ugly; and there have always been Fulani herdsmen since we were kids. That is what we are seeing now," Obaseki said.
The State Commissioner of Police, Mr. Johnson Kokumo, said no case of herdsmen invasion in the State has been left unattended to by the police.
On his part, the State Comptroller of Prisons, Mr. Amadin Osayande, who described himself as part-time farmer, said his farm was set on fire last year by marauding herdsmen.
The Prisons boss who expressed concern over the carrying of arms by herders, lamented that that "when there's food insecurity, there will be hunger."
He, however, disclosed that "as custodians of offenders, we have no herder as inmate in our custody."
In his presentation, an Associate Professor in the Faculty of Agriculture, Ambrose Ali University (AAU), Dr. Agharese Osifo, submitted that word "Livestock Development Centre" should be used in the federal government proposed Cattle Colony.
According to him, colony should not be a sectional thing because Nigeria is a multi-ethnic country.
Earlier in her welcome address, the Acting Chairman of the Correspondent Chapel, Mrs. Nefishetu Yakubu, said: "If we must help government of the day to achieve its quest to diversify the economy through agriculture, then we must begin by first proffering solutions to the herdsmen attack on arable crops farmers."

Load more