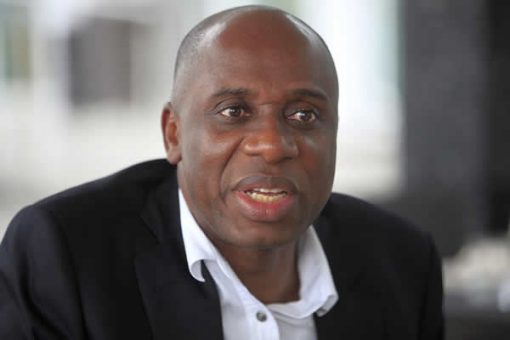 The Federal Government on Monday reiterated its commitment to complete the ongoing construction of Lagos-Ibadan standard gauge rail line latest January 2019.
The Minister of Transportation, Mr Rotimi Amaechi, gave this assurance at on-the-spot assessment of the progress work at Ologun Eru, Ibadan, Oyo State.
Amaechi, who expressed satisfaction with the project, said that the Federal Government was poised to making Nigerians enjoy the dividends of democracy in good time.
"Why waste time? The target is (to deliver the project) 2018 and not more than January, 2019.
"So that Nigerians would begin to enjoy what is referred to as the dividends of democracy," the minister said.
However, on the certainty of project delivery on schedule, Amaechi said that he was not the contractor, adding that Nigerians were putting the government under huge pressure.
According to him, the contract is three years and the contractor has done a lot under less than one year and two months.
"Everybody must realise that there is a designed time, when you (contractor) have to design before going for construction.
" But now people are asking what have you delivered? What have you done? People are now forcing us to design and work and do everything at the same time.
The minister said that so much work had to be undergone and completed before contractor moved to site for work.
He said that laying of tracks would commence in April.
READ: Customs intercept 4 containers loaded with prohibited drug, Tramadol
Ameachi said that the Lagos State Government was working hard to ensure that the project did not affect traffic flow in the state.
According to him, the government has been doing everything possible to address all obstructions to the project.
He said that based on the challenges on the project, a committee has been set up Chaired by the Nigeria Railway Corporation (NRC) Board, with Nigerian Army, NRC, Lagos State Government, NNPC and CCECC as members of the committee.
"The challenges is huge, from water pipe, gas pipe, oil pipe to sewage pipe and the committee is to ensure that the problems are resolved, having at the back of their minds that Dec. 2018 is the deadline, at most January 2019, they will give report at the next meeting."
The Minister said the government was trying to get a vast land at Abeokuta for the rail stations instead of paying N2.8billion as compensation.
He further said there was no alternative to the Jibowu and Costain bridges that will be demolished, stating that they are working together with Lagos State Government to reduce traffic on that axis when work commence.
All the right of way is cleared from Ibadan to Lagos, with the construction of bridges and converts ongoing.
Amaechi, however, noted that a lot of areas were unattended too, and urged the contractor to get more manpower and equipment to meet the deadline.

Load more