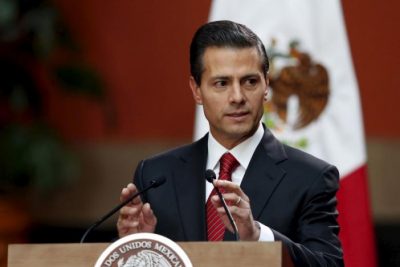 The Mexican Ambassador to Nigeria, Mr Alejandro Moreno, has expressed his country's commitment to strengthen the existing bilateral relations, especially in the areas of trade and commerce between Mexico and Nigeria.
Moreno stated this when he led a delegation to visit the Minister of State for Foreign Affairs, Hajiya Khadijat Abba-Ibrahim, in her office in Abuja
The envoy also used the occasion to invite Nigeria to the forthcoming Mexican Chamber of Commerce Summit scheduled to take place this year.
"There has been existing bilateral relations between the two countries that need to be strengthened. In July 2012 we signed a bilateral agreement on Trade and economic with Nigeria.
"We are working on building and strengthening our bilateral relations, we want to have a Mexican Chamber of Commerce Summit and want Nigeria to participate as part of measures to enhance the relations.
"We don't want want this year to pass without having concrete progress in our bilateral relations.
"We are looking at a way to build a solid structure towards achieving a better success," he said.
Responding, Abba-Ibrahim described the cordial relationship between Nigeria and Mexico as a historic one that started many decades back which must be built upon.
The minister said the visit of the envoy and the request for Nigeria to participate in the Chamber of Commerce Summit was a welcome development.
The minister described the earlier discussion between the embassy and the Ministry of Industry Trade and Commerce as viable one that could be developed upon.
"We will ask the sister ministry to supply us the necessary information based on what was discussed at the previous meeting to enhance the relations and make it stronger," she said.
The trade volume between Nigeria and Mexico grew from 166.5 million dollars in 2012 to 600 million dollars in 2016.
According to a document from the embassy, Nigeria is Mexico's second biggest trading partner after South Africa.
Nigeria mainly exports Hibiscus and Sesame seeds to Mexico, while Nigerian businessmen import building materials and electronics.

Load more