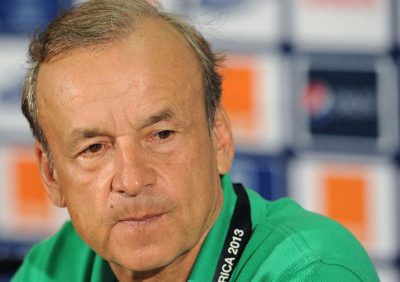 The President of the Nigeria Football Federation (NFF), Mr Amaju Pinnick on Monday said that the allegation that the Super Eagles Manager, Gernot Rohr rejected friendly games with Chile and Morocco was false.
Speculations were rife that the Super Eagles Technical Adviser cum Manager refused to accept friendly games for the team from Chile and Morocco.
The NFF President told Newsmen in a chat in Lagos that the decision of the coach on friendly games for the team was agreed on based on tactical and technical reasons and that the team had already sealed the friendly games it would play.
"Most countries are playing three games before the world cup but the super eagles are playing five and care must be taken not to tire out the players before the world cup kicks off.
"We are taking on Poland and Serbia on March 23 and 27 respectively, Congo on May 28, England on June 2 and Czech Republic on June 6.
"There are so many considerations before a team can take on friendly matches. The NFF did not interfere and will not interfere in issues of selections and matches by the coach.
"The coach wanted a typical African traditional style of pay. Morocco and Chile has never been in the picture for the friendly games '' he added.
On the appointment of new coaches by the NFF, Pinnick said that the federation followed due diligence and that the coaches were appointed based on antecedents and not sentiments.
"I am particularly impressed with the present administration for not interfering in the decisions of the NFF. It is commendable and it enables the federation to ensure that the best hands are picked without influence.
"Nigeria is having global recognition again in sports and we want to ensure that by 2022, Nigeria will have the best football team in the World.
"We have plans to build football houses across the federation for trainings. There will be two standard pitches in each state to catch them young and restore the 1994 glory to Nigeria'' he further said.
With the NFF new tenure approaching, Picnnick however declined comments on a second term bid.
The next NFF election is billed for Sept. 30, 2017.

Load more