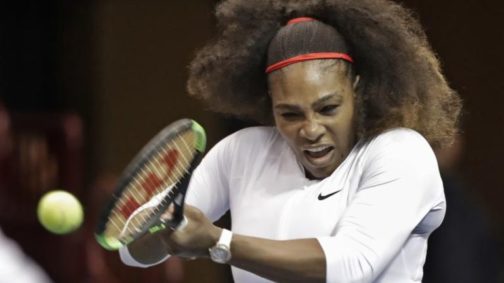 Serena Williams was understandably far from her best in her return to competition on Sunday, but the American was still looking positive.
The greatest player of her generation said it was a positive step towards her goal of returning to the pinnacle of her sport.
"I honestly feel better than I thought I was going to feel," said Williams, who prior to Sunday had not played a competitive match since her 2017 Australian Open victory.
"I feel like I didn't expect to play, you know, like that for me. I feel like I'm on the right track."
Venus and Serena, who gave birth to her first child last September, showed glimpses of both her prowess and rust during the 6-2 6-3 loss to Demi Schuurs and Lesley Kerkhove.
Early in the match Williams showed the effects of her lengthy layoff, perhaps most noticeably when she shanked a routine volley that left her bent over in embarrassment.
But shortly after, the owner of an Open-era record 23 Grand Slam singles titles drew wild cheers.
That was when she confidently stepped to the net and stretched out to drive home a superb backhand volley.
"I didn't know what to expect. Maybe that's why I felt like I did better. I didn't expect to …have that much power on my serves, even though they didn't go in," said Williams.
"It's just a start. I feel like that's a very good step in the right direction."
In spite of the loss, it was a positive step for Williams.
She had been bed-ridden for six weeks from a series of complications, including a pulmonary embolism that led to multiple surgeries, after her daughter was delivered by emergency cesarean section.
The 36-year-old American said she came into the tie with high expectations.
"If I walk out there with low expectations, then I need to stop doing what I do. So that's never going to happen for me," said Williams.
"I'm always going to have the best and highest expectations for myself."
The rubber had no impact on the best-of-five tie.
It was played after Venus gave the U.S. an insurmountable 3-0 lead that put the reigning champions into the April 21 to April 22 semi-finals against France.
Williams said in addition to working on her serve and returns, she needs to manage her time better now that she has her daughter in tow.
She had played an exhibition match last December in the United Arab Emirates, where she lost to French Open champion Jelena Ostapenko.
"I didn't manage my time well, but I was thinking about it in the future how to manage it better," said Williams, whose daughter was among those in the sellout crowd.
"This is literally my first time traveling with the baby and everything. I'm going to try to do better. It was hard. It was the first time for me."

Load more