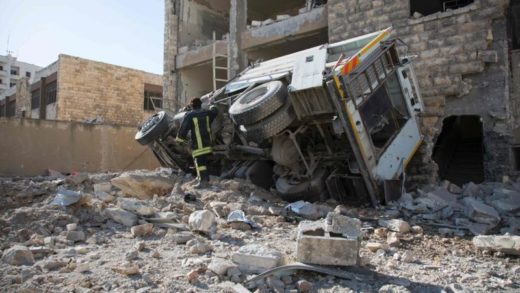 The Head of the UN Refugee Agency (UNHCR) Filippo Grandi, on Monday, warned against "internationalisation" of the conflict in Syria, after tension escalated between Damascus and Israel.
Grandi said during a visit to the Zaatari refugee camp in northern Jordan that "this  internationalisation of the Syria war is what needs to be avoided because it takes us away from solution.
"The escalation of the war, the new dimensions are of extreme concern.
"Once again, we are witnessing extended failure of political action by states to help Syrians to find solution."
Tension escalated on Saturday when Israel said it had downed an Iranian drone which flew from Syria into Israeli territory.
Israel subsequently launched strikes inside Syria against "Iranian targets.''
READ: 2.5m Libyans to participate in 2018 elections – Speaker
An F-16 conducting the bombing raid crash-landed in Israeli territory and two pilots ejected after coming under Syrian fire.
Grandi, the UN high commissioner for refugees, visited an employment office opened late 2017 in Zaatari, to help refugees secure legal work.
He also visited the solar plant that provides the camp with 12 to 14 hours of electricity.
The Zaatari refugee camp opened in 2012.
Report says it is the largest camp in Jordan housing almost 80,000 Syrian refugees, many of who have been living there for several years.
Also, Grandi visited Jordan's Azraq camp, which is home to over 30,000 refugees.
Jordan currently hosts no fewer than registered 657,000 Syrian refugees.

Load more