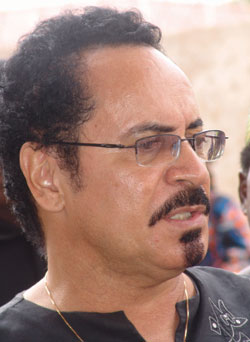 Popular Nollywood actors: "Papa Ajasco'', "Kanran'', Flutist "Tee Mac'' and other artistes on Monday in Lagos expressed diverse opinions on how they would celebrate this year's Valentine Day coming up on Wednesday, Feb.14.
They told the News Agency of Nigeria (NAN) in separate interviews that most Nigerians had misinterpreted the celebration of Valentine's Day in the past to mean a celebration of infatuation rather than love.
They said that the day was dedicated to St.Valentine who was known for promoting genuine love and romance and devotion among couples.
They said people should express love to those around them, relatives, friends, the less privilege, destitute, widows, and orphans among others.
"Valentine's Day is recognised as a significant cultural, religious, and commercial celebration of romance in many regions around the world, although it is not a public holiday in any country.
Mr Segun Akinemi, a veteran actor popularly known as " Kanran'' on stage, likened the kind of Valentine's Day celebrated by some Nigerians to the Sodom and Gomorrah type which dwelt on lust.
According to him, suitors see the period as a season to enjoy some sexual pleasures with their partners which is wrong.
The actor said that the season had been tagged as the time when girls became pregnant, men and women contacted sexually transmitted diseases.
According to him, some men also suffer from some mysteries caused by promiscuity during the period for sleeping with other men's wives.
He cautioned the young ones to remain responsible and think deeply before indulging in unholy acts this Valentine Season.
"The Valentine's Day will be the same day we will be having our Ash Wednesday, so I intend celebrating it in church after which I will go home to relax.
"The youths should not see this season as a period to indulge in immoral acts because the way some people celebrate the day can be termed as the reenactment of the Festival of Sodom and Gomorrah.
"Express pure love not infatuation, men should not deceive the ladies because love is giving, accommodating and it perseveres," he said.
Also, Damilola Adekoya, a comedienne, who is popularly known as "Princess" on stage, said that Valentine's Day is meant to be spent with orphans and the less privilege generally.
She said that Nigerians had stigmatized the celebration by turning it into a season when people engaged in pre-marital sex lured by infatuation and all forms of immoral acts.
The comedienne said that people should visit the motherless homes, prisons and hospitals with gifts during Valentine's Day because that was the kind of love expected to be shown.
"The day should be to show love to the less privilege like the orphans, widows and destitute because these people need a sense of belonging from the rest of the society.
"Personally, I do not see Valentine's Day as the celebration of love between couples because they are supposed to show love to each other on a daily basis not during Valentine Season alone, "she said.
The flutist, Omatshola Iseli, popularly called Tee Mac said that everyday should be seen as Valentine's Day when people should show love to one another.
"To me, everyday is Valentine's Day because each time I come back from my second home which is Swaziland; I get loads of chocolate and other things for my friend here.
"We should express love to everyone all the time because that makes life interesting for us all,'' he said.
To Abiodun Ayoyinka also known as "Papa Ajasco", he said that he loved Valentine's Day.
"It is a day couples should reflect on their individual strengths and weaknesses.''
According to him, when couples do this frequently, their level of closeness increases and they will understand each other better.
"I will be celebrating this year's Valentine's Day on the movie location and I wish to express love to everyone that day," he said.
Ekemini Ekerete also known as " Kemen" one of the housemates at the 2017 Big Brother Naija show, said Valentine's Day should be taken seriously by all as it was the only season recognised worldwide for the celebration of loved ones.
Ekerete, also a fitness expert, said that he intended organising a walk out session for couples this year but had some logistics problems and had postponed it until next year.
"I am at present in Abuja and I have my loved ones in Uyo, so I intend sending my shout out to them through my Instagram handle," he said.

Load more