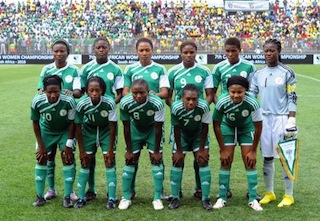 The Nigerian senior national women football team, the Super Falcons, on Monday departed Abuja for Cote d'Ivoire, venue of the maiden West African Football Union (WAFU) Women's Cup tournament.
Maureen Mmadu, the team's assistant coach, told the News Agency of Nigeria (NAN) in Abuja that their aim was to get to the competition's final and possibly win the tournament.
Mmadu said the Falcons understand the task ahead of them and would do their best to ensure victory in all the matches.
"We are going there to do our best. The players are in high spirits and are also ready for the task ahead.
"Nigeria is a force to be reckoned with when it comes to female football. So, we will take each match as it comes with the aim of getting to the final and if possible win the title,'' she said.
Super Falcons are drawn against Togo, Benin and Senegal in Group B of the competition, which is in its inaugural edition.
Nigeria's west African rivals Ghana are drawn alongside hosts Cote d'Ivoire, Burkina Faso and Niger in Group A.
The tournament begins on Wednesday, and will end on Feb. 24.

Load more