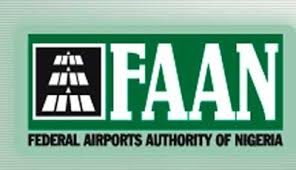 The Commissioner, Accident Investigation Bureau (AIB), Mr Akin Olateru, has disclosed that the bureau was yet to start collecting the five per cent passenger service charge (PSC) approved by the Federal Government.
Olateru disclosed this in an interview with newsmen at sideline of a one-day union retreat organised by the Joint Union Negotiating Council (JUNC), Federal Ministry of Transportation, on Tuesday in Abuja.
He said that since the approval by the Minister of State for Aviation, Sen. Hadi Sirika, in 2017, AIB was yet to collect a penny from the Federal Airports Authority of Nigeria (FAAN).
Sirika, had in 2017 approved that five per cent from the passengers service charge collected by FAAN be given to AIB.
There were discordant tunes among stakeholders against the approval, especially within FAAN.
Olateru explained that the PSC, which was usually collected by FAAN included N1,000 per domestic passenger, N2,500 on passenger from Murtala Muhammed Airport (MM2) and 50 dollars on international passenger.
He said the bureau asked for 10 per cent to enable it carry out its mandate, adding that the minister approved five per cent since AIB had no means of generation income.
According to him, AIB is the only government agency under transportation that does not charge for its services, saying ''we don't charge anybody; we don't invoice anybody for what we do''.
"AIB is set up to investigate accidents, come up with safety recommendations, prevent future occurrence and at the end of the day, make sky safe.
"That is our own role and I believe this PSC should be shared with AIB, what we asked for was 10 per cent but the Minister of State for Aviation approved five per cent since 2017.
"But till date, FAAN has not remitted a penny to AIB; to me, it is a very unfortunate situation,'' he said.
READ: Nigerian Govt. to auction N100bn bonds on Feb. 21- DMO
Olateru also disclosed that the bureau was able to release 10 final accident reports out of the 27 pending investigations when he took over the leadership of AIB in January 2017.
He added that additional six reports would be released in March from the remaining 17 investigations, adding that the organisation was determined to complete all pending accident investigations in 2018.
The commissioner added that one of the final reports that would be released was the accident involving associated airlines that was carrying the body of late former Ondo governor, Olusegun Agagu in 2013.
"When I came in January 2017, there were 27 outstanding final reports of accidents and I made a promise to reduce that number substantially before the end of last year.
"By the end of 2017, we released ten final reports that bringing it down to 17 to go and before the end of March, we will release another six.
"We are currently working currently working to ensure that we release all the backlogs.
"One of them is the one that was carrying of the body of the late former governor of Ondo State, Olusegun Agagu,'' he said.
Olateru explained that the enabling act that gave birth to AIB mandated it to investigate accidents and serious incidents in accordance with the ICAO Convention.
He added that the incident involving the opening of Dana aircraft door was a minor incident that was being investigated by the Nigerian Civil Aviation Authority (NCAA).
According to him, currently I am aware that the authority is investigating and the report will be made available soon.

Load more