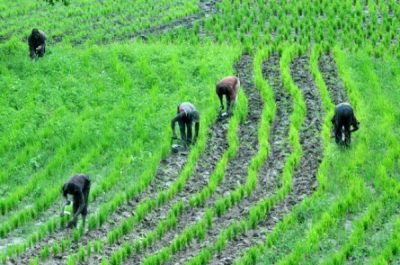 Women farmers in Zabarmari community in Jere Local Government Area of Borno have commended the Federal Government's Agriculture Support Programme for farmers displaced by the Boko Haram insurgency.
A cross section of the farmers lauded the government's programme in separate interviews with the News Agency of Nigeria (NAN) on Tuesday at Zabarmari village, near Jere.
The government, in collaboration with the Food and Agriculture Organisation (FAO) supported 270, 000 displaced farmers during the rain-fed and ongoing dry season farming activities in the state.
The farmers were provided with fertilisers, seeds, chemicals, tube wells, water pumps and other inputs.
Mrs Maryam Abubakar described the gesture as commendable, noting that it would boost agricultural productivity as well as provide them with sustainable means of livelihood.
Abubakar said that the women were supported in the cultivation of tomatoes, onions, Okro, cabbage and other vegetables.
She noted that her involvement in farming in the past one year had enhanced her socio-economic status.
Ms Fatime Musa, the Head of the Women Farm Cluster in the area, said that no fewer than 61 women were registered in the cluster.
She said that the women were allocated land by the government and the development organisations.
"We are 61 in number, including widows and divorcees, working on the farm. We received fertilisers, inputs and farming implements, in addition to tube wells and water pumps, provided in the farm.
"We preserve some of the produce for our household consumption and sell some, to meet our financial needs," she said.
Hafsatu Yahaya, however, called on the state government to provide access road to open up the area, to ensure easy transportation of farm produce to the urban centres.
Yahaya noted that the people of the area relied on Ox Cart for transportation, due to lack of access road.
"Besides, the difficulties associated with the movement of farm produce, it is also difficult to take sick persons to the hospital in Maiduguri due to lack of access road."
Zabarmari is one of the farming communities liberated from the Boko Haram insurgents by the military.
Also, the community is one of the major rice producing areas of the state.
Other produce cultivated by the farmers in the area include maize, beans, millet, sorghum and perishable produce.

Load more