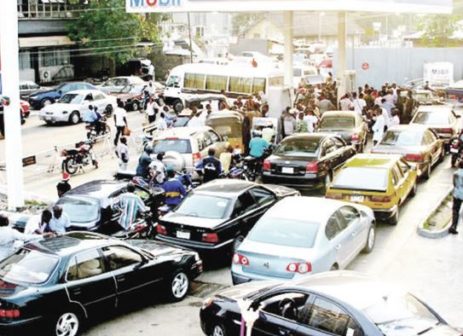 As fuel scarcity bites harder in Kaduna, civil servants are finding it difficult to get to work in time due to hike in transport fares and fewer vehicles plying the roads.
Some of the civil servants and commercial drivers said in separate interviews on Tuesday that the situation was gradually becoming harrowing and intolerable.
One of the workers, Ms Ruth Adamu, said it was no longer possible to get to work on time.
"I left home early so that I can get a bus that will take me to town, but unfortunately, I had to wait for 45 minutes before I could get one.
"There are few vehicles plying the road as a result of the persistent fuel scarcity and this has led to increase in intra-city transport fare.
"I normally pay N80 for my transport but today I had to pay N150," she said.
Another civil servant, Malam Aminu Isah, expressed displeasure over the development, stating that the situation was going "from bad to worse.''
"As you can see, most of us waiting for public vehicles are civil servants, we don't own private cars as such we use public transport to go to work," he said.
A commercial driver, Malam Hamza Iliyasu, also expressed disappointment on the prevailing fuel situation in the city, saying it was getting out of control.
"Most public transport drivers have either parked their cars or are on queue waiting to get fuel, that is why you can only find few commercial vehicles on the road," he said.
Another commercial driver, Mr Izzy Chigbu, said that the long queues drivers had to go through daily was "stressful and dangerous" to their health.
"Some drivers sleep at filling stations to be able to obtain fuel with which to work. I am supposed to be on the road conveying passengers to their various destinations, but here I am waiting on a queue since dawn.
"With the way things are going, I don't think I will get fuel any time soon," he said.
Chigbu appealed to the Federal Governments to take decisive measures that would permanently tackle problems of fuel supply in the country.

Load more