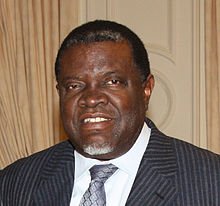 President Hage Geingob of Namibia on Tuesday reshuffled deputy ministers portfolios after the Cabinet shakeup on Friday, appointing more women.
The Office of the President said in a statement that in making these appointments, Geingob took into account the need to realign deputy ministers.
With regard to gender balance, 17 of the 28 deputy ministers are now women.
According to a statement, six vacancies were created due to the promotion of three long-serving deputy ministers to full ministerial posts in Friday's Cabinet shakeup and the departure of three other deputy ministers.
Existing vacancies have been primarily filled with appointees from five ministries that were previously served by two deputies, making all 25 ministries be equipped with only one deputy minister currently.
Three deputy ministers responsible for special recognition categories, including marginalised, disability and veteran affairs, have been clustered under the presidency to leverage resources.
The appointments are with immediate effect.

Load more