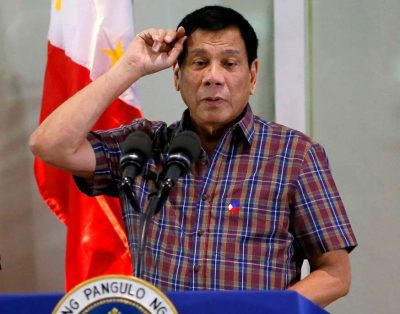 Philippines President Rodrigo Duterte says he will not stop his war against illegal drugs in spite of an investigation by the International Criminal Court (ICC) on extrajudicial killings related to the campaign.
The 72-year-old president said that he was also prepared to go to prison or be executed if found guilty of crimes against humanity as alleged in a complaint filed against him at the ICC.
"I'd like to address myself to the International Criminal Court and to the prosecutors coming there to investigate.
"The war or the drive against drugs will not stop and it will last until the day I step out.
"If I go to prison, I go to prison, if you want to execute me, look for a country that allows prisoners to be executed by firing squad, that would make me happy," he added.
The ICC on Friday announced that it was opening a preliminary examination into allegations of extrajudicial killings under Duterte's campaign against illegal drugs, which has left thousands dead.
A Filipino lawyer had filed a complaint accusing Duterte and 11 other senior officials of mass murder in April 2017 over the killings of criminal and drug suspects which have taken place in the Philippines since he became president on June 30, 2016.
According to official data, no fewer than 3,987 people were killed in police operations against drug suspects between July 2016 and Jan. 17.
However the New York-based Human Rights Watch has noted that estimates by local human rights and church groups place the death toll at up to 13,000 people.
Human Rights Watch emphasised that the 13,000 people include those suspected to have been murdered by hired or vigilante killers.

Load more