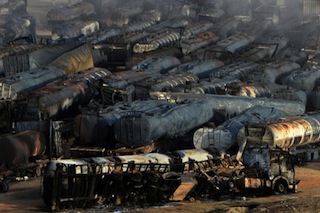 The Taliban on Wednesday said they want to end Afghanistan's war through dialogue.
They however warned that their willingness to find peace did not mean they were exhausted.
They said their armed campaign would be sustained no matter how powerful the U.S. opposition.
The offer of dialogue came in a statement addressed to the American people.
"Our preference is to solve the Afghan issue through peaceful dialogue," the Taliban said.
In their statement, the Taliban did not mention a Jan. 27 raid on a top Kabul hotel, in which more than 30 people were killed, or a bomb attack on a crowded street a week later that killed more than 100.
They claimed both attacks.
The Taliban, fighting to oust foreign forces and defeat the U.S.-backed government, said the U.S. must end its "occupation" and accept the Taliban right to form a government "consistent with the beliefs of our people".
The Taliban said their willingness to play a "constructive role in finding a peaceful solution" should not be taken as a sign of weakness.
"This can never mean that we are exhausted or our will has been sapped," they said.
They said they had no intention to damage any other country or let anyone use Afghan territory against anyone else.
It was not too late for the American people to realise the Taliban can solve problems with every side "through healthy politics and dialogue", the militants said, adding the chances for dialogue were "not exhausted".
The militants only mentioned the Afghan government to deride it on various grounds.
A more aggressive U.S. strategy in Afghanistan including a surge in air strikes introduced by President Donald Trump in August has pushed the Taliban back from several district centers and two provincial capitals.
However, the militants control large parts of the countryside and has responded to the more aggressive U.S. strategy with two attacks in Kabul in the past few weeks, killing nearly 150 people.
The attacks have toughened both the U.S. and Afghan government stand on trying to initiate talks to end nearly 17 years of war that neither side seems capable of winning.
A government spokesman declined to comment on the statement and a spokesman for Afghanistan's NATO-led military mission was not immediately available for comment.
Preliminary talks on ending the war that kills thousands of people each year have stalled.
But low-level contacts between the government, international groups including the United Nations and groups close to the Taliban have continued even as the insurgency has escalated.
Progress has been blocked by the deep mistrust between the government and the Taliban, as well as uncertainty about the position of neighbors including Pakistan, which Afghanistan has long accused of aiding the insurgents.
Pakistan rejects accusations that it sponsors the Taliban.

Load more