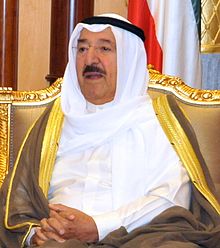 Kuwait, Saudi Arabia and Turkey have pledged to pump 8.5 billion dollars into Iraq for reconstruction and economic revival as the country recovers from years of Islamic State insurgency.
The pledges, made on Wednesday, came on the final day of a three-day fund-raising conference in Kuwait City.
Kuwait's Emir Sabah Al-Ahmad said his country has offered two billion dollars for Iraq, including one billion in loans and another 1 billion for investment.
The gesture reflects Kuwait's interest in revitalizing economy of Iraq that invaded the oil-rich emirate more than two decades ago.
Ties between Iraq and Kuwait have improved since the overthrow in 2003 of Iraqi dictator Saddam Hussein, who oversaw an invasion of Kuwait in 1990.
The Kuwaiti ruler Wednesday said that Iraq would not be able to undertake its reconstruction after three years of devastating fighting against Islamic State.
"We realise the scale of destruction wrought on Iraq as a result of terrorist organizations' control of some of its lands," Sabah told the international conference on rebuilding Iraq.
"Iraq's stability is an inseparable part of security and stability of the state of Kuwait and the region," he added.
Saudi Arabia, another neighbour of Iraq, has promised 1.5 billion dollars at the three-day conference, due to end later Wednesday.
Saudi Foreign Minister Adel al-Jubair made the pledge at the meeting, Saudi-owned television Al Arabiya reported.
In October, Iraqi Prime Minister Haider al-Abadi visited Saudi Arabia, signalling a thaw in ties between Baghdad and Riyadh that were strained by Saddam's invasion of Kuwait.
Turkey promised five billion dollars in loans on Wednesday for rebuilding neighbouring Iraq.
The money would be for "projects and investments," Turkish Foreign Minister Mevlut Cavusoglu said on the sidelines of the conference on Iraq's reconstruction.
Al-Abadi, addressing the gathering, said that his country was interested in "genuine partnerships" with the outside world.
"Development in Iraq is development for the region and for all its neighbours," al-Abadi added.
"Today we consolidate the concept that Iraq will serve as a bridge of getting together, not an arena for conflict."
In a response to domestic and international calls, al-Abadi vowed fight against corruption in Iraq. "We will not stop fighting corruption."
The European Union's foreign policy chief Federica Mogherini has also promised 400 million dollars from the bloc in humanitarian and stabilisation aid to Iraq.
Iraq declared victory over Islamic State in December with the help of a US-led alliance, having retaken all the territory captured by the militants in 2014 and 2015.
The director-general of Iraq's planning ministry, Qusay Adulfattah, on Monday said rebuilding Iraq will cost more than 88 billion dollars.
Adulfattah told the international donors' conference that rebuilding Iraq is restoring hope to Iraq, and restoring the stability of Iraq is stabilising the states of the region and the world," said Planning Minister Salman al-Jumaili.
The seven provinces attacked by the militants, he said, suffered 46 billion dollars in direct damage, including the destruction of 147,000 housing units, and the security forces took $14 billion in losses.
He said tens of billions more were lost indirectly through damage to the wider economy and years of lost growth.
Iraq has published a list of some 157 projects for which it is seeking investment.
They include rebuilding destroyed facilities such as Mosul airport and new investments to diversify the economy away from crude oil sales, developing transport, agriculture and oil-related industry including petrochemicals and refining.
Rebuilding homes, hospitals, schools, roads, businesses and telecommunications will be key to providing jobs for the young, ending the displacement of hundreds of thousands of people and putting an end to decades of political and sectarian violence.

Load more