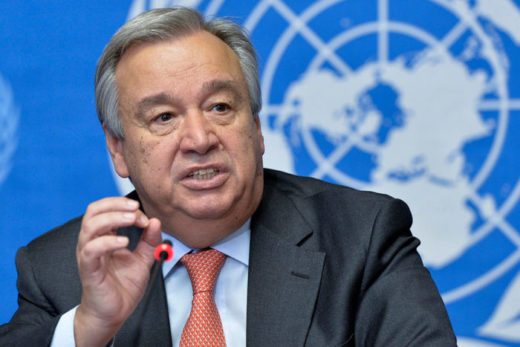 UN is firmly committed to the reconstruction process in Baghdad, said UN Secretary-General, Antonio Guterres on Wednesday in Kuwait.
Guterres said this in his speech at the three-day International Conference for the Reconstruction of Iraq held in Bayan Palace in Kuwait.
He urged the international community to deliver comprehensive aid to this country, saying that UN development programmes should buoy anti-terrorism efforts and focus on human rights.
The UN chief highlighted the need for an "all-inclusive reconciliation process," calling on Iraqi authorities to abide by UN Resolution 1325, which addresses the impacts of armed conflicts on women.
On the reconciliation process in Iraq, he said it should guarantee Iraqis of all sects' equal opportunities.
He went on to say that forthcoming elections in Iraq are crucial to ensure that stability is restored to the country.
The conference which kicked-off on Monday brought together several economic powers, as well as regional and international organisations, to make contributions to rebuilding Iraq after many years of war and conflict that ripped through various parts of the country.
The director-general of Iraq's planning ministry, Qusay Adulfattah, on Monday said rebuilding Iraq after three years of war with Islamic State will cost more than 88 billion dollars.
Adulfattah told the international donors' conference that rebuilding Iraq is restoring hope to Iraq, and restoring the stability of Iraq is stabilising the states of the region and the world," said Planning Minister Salman al-Jumaili.
The seven provinces attacked by the militants, he said, suffered 46 billion dollars in direct damage, including the destruction of 147,000 housing units, and the security forces took $14 billion in losses.
He said tens of billions more were lost indirectly through damage to the wider economy and years of lost growth.
Iraq has published a list of some 157 projects for which it is seeking investment.
They include rebuilding destroyed facilities such as Mosul airport and new investments to diversify the economy away from crude oil sales, developing transport, agriculture and oil-related industry including petrochemicals and refining.
Rebuilding homes, hospitals, schools, roads, businesses and telecommunications will be key to providing jobs for the young, ending the displacement of hundreds of thousands of people and putting an end to decades of political and sectarian violence.

Load more