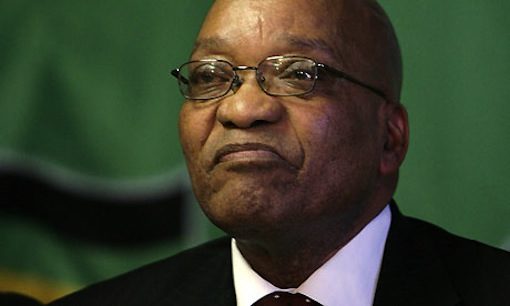 Jacob Zuma has refused to heed calls to step down as South African president, denouncing moves by the ruling African Nation Congress (ANC) party to remove him following a string of damaging corruption scandals.
The ANC formally asked him to resign on Tuesday.
"I am being victimised here. I think there has been a misinterpretation," Zuma said in an attempt to present his side of the story.
Zuma however indicated he would accept the outcome of a parliamentary vote of no confidence against him, which has been scheduled for Thursday.
During more than a week of negotiations with the ANC's key decision-making body, Zuma said that "nobody provided the reasons, nobody has been able to provide me with what I have done."
Zuma denied any wrongdoing over the corruption allegations of recent years. "There is no problem. There has never been a problem," he said in the televised remarks.
The ANC "will regret the crisis they have caused," he said, adding he wsa planning to make a formal statement on the calls for his resignation later on Wednesday.
During the negotiations with the ANC leadership, Zuma said he had in principle agreed to step down but presented "a package" of demands that included him staying in power for several more months.
The ANC didn't accept those conditions, said Zuma.
"I am open to further discussion, but they are rushing [into a vote of no confidence]," he said, adding that he was unjustly "portrayed as this person who is defying the leadership."
If Zuma loses the vote, parliament may elect a successor the same day, according to ANC treasurer general Paul Mashatile.
"We will possibly elect a new president on Thursday … if not Friday," said Mashatile, assuming scandal-hit Zuma will lose the vote.
Zuma's successor would most likely be Deputy President Cyril Ramaphosa, who in December took over from Zuma as president of the ANC.
Zuma, who became president in 2009 and whose second term officially ends in 2019, has already faced six no-confidence motions, four of which were voted on.
This time, the vote is likely to succeed because the ANC holds a large majority of seats in parliament, and the vote of no confidence is decided by a simple majority.
If Zuma loses the vote, South Africa's chief justice will preside over the election of a new president, while the cabinet will have to resign.
The ANC caucus in parliament decided to hasten the vote, which had been initially requested by opposition party Economic Freedom Fighters for February 22.
"We want certainty.
"We would like the incoming president [to hold the postponed State of the Nation address] without delay," he said.
Earlier on Wednesday, police arrested three people from the Johannesburg home of the Gupta family, linked to the corruption scandals that have engulfed Zuma.
Hangwani Mulaudzi, the spokesman of the elite crime investigation unit the Hawks, confirmed the arrests to dpa, without disclosing the identity of those arrested.
Arrest warrants had been issued for two other people who were expected to hand themselves over to the police, Mulaudzi said.
Media reports said those arrested are expected to appear before a commercial crimes court in the city of Bloemfontein later on Wednesday.
The influential Gupta family, which has business interests in the computer equipment, mining, air travel, energy, technology and media industries, have been accused of influencing the state together with Zuma through lucrative business deals and possibly even influencing ministerial appointments.
Most recently, the family came under fire when one of their companies took over the management of a small-scale dairy farm, which shortly thereafter received a payment of 34 million rands (2.85 million dollars) from the provincial agriculture department.
A high court in January ordered the freezing of all assets linked to the farm.
Zuma and the three Gupta brothers he is mainly linked to – Ajay, Atul and Rajesh – deny any wrongdoing.
Opposition party Democratic Alliance (DA) meanwhile demanded that the police extend their raid on the Gupta family to include government ministers linked to the corruption allegations.
"The investigations and action simply cannot end [with the Guptas] and must continue to all those implicated, including key ministers," DA member Zakhele Mbehle said in a statement.
Mbehle demanded investigations into four ministers as well as ANC secretary general Ace Magushule.

Load more