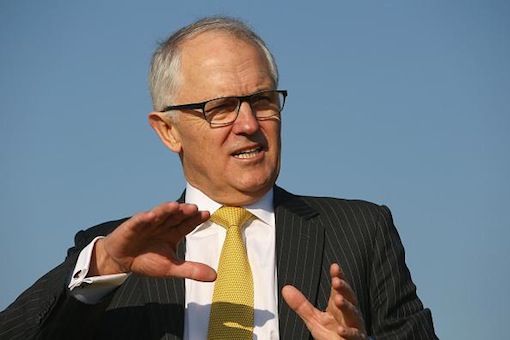 Australian Prime Minister Malcolm Turnbull on Thursday said ministers will be banned from sexual relationships with staff under a new code of conduct to be enacted in the wake of his deputy admitting to an extramarital affair with a staffer.
"Ministers, regardless of whether they are married or single, must not engage in sexual relations with staff," Turnbull told reporters in Canberra.
"In 2018, it is not acceptable for a minister to have a sexual relationship with somebody who works for them.
"It is a very bad workplace practice. And everybody knows that no good comes of it."
Deputy Australian Prime Minister Barnaby Joyce, a Catholic who campaigned on "family values" and been married for 24 years, is expecting a child with his former press secretary.
The affair has thrown Turnbull's centre-right government into turmoil, straining the alliance between his Liberal Party and Joyce's National Party and sapping Joyce's public standing.
Joyce has so far resisted calls to quit either his seat or his cabinet spot, including a motion that passed the Senate calling for his resignation, since leaving parliament would put the government's narrow one-seat majority at risk.
"The deputy prime minister will be taking leave from Monday…and accordingly will not be able to be acting prime minister while I'm overseas," Turnbull said above loud heckling in parliament.
The percentage of voters backing him crashed to 43 per cent, according to the ReachTEL poll published in Fairfax newspapers on Thursday, down from the 63 per cent margin he won at a by-election in December.
Australia's ministerial code of conduct requires lawmakers to declare relationships with any staff member of a cabinet minister.
There are also questions about Joyce's acceptance, rent-free, of a townhouse belonging to a wealthy friend, Greg Maguire, and whether Joyce broke ministerial rules forbidding asking for gifts.
Joyce denied asking for the townhouse.
"Most people would realize that at the time of a marriage break-up, it is not unusual for those who you are close to, to offer support," he told parliament.
"Mr Maguire approached me…he said: 'You're living out of a suitcase, and this is basically something that I should try and help you with.' I took him up on the offer but I offered to pay for it."
He has also said he did not break any rules over Campion's employment because she was not his "partner" at the time.

Load more