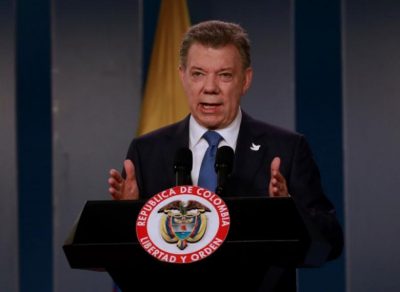 Colombia's army chief of staff has denied claim that Colombia is planning to attack Venezuela, amid rising diplomatic tension between the two countries.
Venezuela's Attorney General Tarek Saab said earlier this week that Colombia was planning "a military bombing and the invasion of the fatherland."
Colombia's army Chief Alberto Mejia responded on Wednesday that Colombia had stepped up security on its frontier with Venezuela, but that the measure was only aimed at controlling the constant influx of Venezuelans into Colombia.
More than half a million Venezuelans are estimated to be in Colombia after many of them fled the food and medicine shortages in their country.
Thousands of Venezuelans are sleeping in parks and public places, raising concern over how Colombia can host them all.
President Juan Manuel Santos has sent more security forces and tightened entry requirements on the border.
Mejia said the increased border controls were also aimed at preventing attacks by the National Liberation Army (ELN), a Colombian left-wing guerrilla group whose members he accused Venezuela of hosting.
"However, Colombia is using "the diplomatic channel" rather than military action to deal with the issue of guerrilla fighters,'' the general added.
Colombia is a member of the Lima Group of 14 American countries which stepped up pressure on Venezuela on Tuesday amid concerns over rule of law and democracy in the country.
Mejia has said that President Nicolas Maduro is not welcome at a Summit of the Americas scheduled to be held in the Peruvian capital Lima on April 13 and 14.

Load more