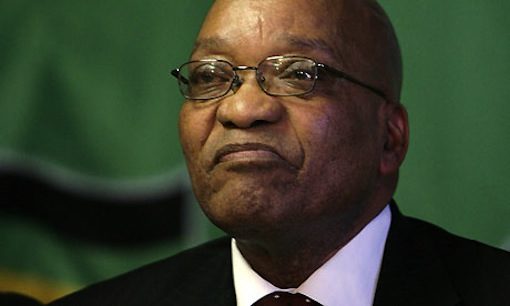 By Tayo Ogunbiyi
In-spite of his initial grandstand, it was obvious that the days of former South Africa's President, Jacob Zuma, in power are numbered. The moment the country's ruling African National Congress (ANC) formally asked him to resign, discerning watchers of events in the Madiba nation knew that it was a just a matter of time before the defiant Zuma says his final goodbye.
The ANC's decision to recall him without delay followed marathon talks of the party's top echelon. Jacob Zuma, 75, had at the outset agreed to step down, but only in the next three to six months. The tenure of the fallen Zuma, who has been in power since 2009, has been stained by corruption allegations.
Unsurprisingly, Zuma had stubbornly resisted mounting pressure on him to quit since last December, when he was replaced by Cyril Ramaphosa as leader of the ANC. From the body language of the top hierarchies of ANC, it was obvious they urgently wanted Ramaphosa to come in as the President of South Africa.
Considering the fact that the ANC has majority in parliament, it was apparent that it was not going to be easy for Zuma to effectively defy his party's demand for his resignation. In as much as he was not legally obliged to comply with the party's request, the situation cast serious aspersion on him as it indicated his party's loss of faith in him. If he had remained defiant to the extent of allowing the parliament to proceed on passing a vote of no confidence in him, it would have been a humiliating experience not only for him but for the party as well. Faced with almost same dilemma, his predecessor, Thabo Mbeki, resigned in 2008, also after a power struggle with his deputy. His deputy then was, of course, Jacob Zuma, who took over the presidency the following year.
Like every other political party, particularly in Africa, ANC has been engulfed in deft power struggle which has had grievous implications on the socio-economic and political landscape of the Rainbow nation. The peak of the struggle clearly manifested in the decisive move of the party to ditch Zuma who, ironically, it has been protecting for over nine years, in-spite of the several corruption allegations being leveled against him.
 Zuma's nine years in office have been dogged with lots of controversies. He has severally faced calls for resignation after it was found out that he has misused 246m rand (£13.73m) of taxpayers on the upgrade of security in his country home. The total spending amounted to eight times the estimated present-day value of securing the home of Nelson Mandela, South Africa's first black president.
The discovery was an injurious blow to Zuma, whose presidency was characterized by copious scandals. While his village lacks access to electricity or potable water, Zuma's country home project demonstrates audacious implausible affluence. He was equally accused of uncanny arrogance of power and gross insensitivity as his neighbours were ordered to move home without proper authorization, thereby costing government millions in public fund. Zuma was also indicted of conflict of interest by engaging his private architect who earned a mind boggling 16.5m rand (£922,796) from the project.
Zuma, a past Robben Island convict and a polygamous Zulu conservative, is no alien to scandal. He was exonerated of rape and merely became President after more than 700 corruption, fraud, money-laundering and racketeering charges against him were dropped on technical ground shortly before his election in 2009. He also has the image of a randy man. Aside, the many wives he had married since assuming office, he also had a child with the daughter of a close friend.
As it is typical in Africa, the government's own investigation cleared Zuma of wrongdoing, on the basis that the improvements in Zulu's homestead were necessary for security reasons. It, however, remains illogical as to how 'improvements' which included  construction of  a visitors' centre, amphitheatre, cattle enclosure, marquee area, extensive paving, new houses for relocated relatives and a swimming pool are required to improve security.
In 2016, the country's highest court ruled that Zuma debased the constitution by failing to pay back government money spent on his private home. In 2018, the Supreme Court of Appeal ruled that he must face 18 counts of corruption, fraud, racketeering and money-laundering relating to a 1999 arms deal.  Also, Zuma has been linked to the wealthy India-born Gupta family, who are allegedly involved in several shady deals with Zuma. With the resignation of Zuma, it is being alleged that a prominent member of the Gupta family is currently on the run.
The damage that controversy ridden years of Zuma has done to the image of the ANC is, no doubt, massive. The party which used to be the leading and most popular party in South Africa is gradually losing its prominence among the country's electorates. This much came to fore during the 2016 local elections when it polled merely 54%, its worst result since 1994 when Mandela became the First Black President of South Africa.
 Analysts have affirmed that it is, indeed, the fear of doing poorly in the 2019 election that spurred ANC top echelons to desperately push for Zuma's exit. It was evident that South Africans were fed up with Zuma's amateurish style of handling major issues in the country and could further express their anger in the 2019 elections by massively voting against the ANC. Indeed, some ANC party leaders confirmed that Mr. Zuma was being dismissed because he was damaging the party's electoral prospects, not really because of the moral issues surrounding him. Officials pushing for Mr. Zuma's early exit had argued that the longer he stayed in power, the harder it would be for Ramaphosa to rebuild the A.N.C. before national elections in 2019.
Meanwhile, South Africa's principal opposition parties – the Democratic Alliance and the Economic Freedom Fighters – hope to exploit the ANC's weaknesses in the 2019 election, with one possible outcome being a coalition government. It is, thus, clear that Ramaphosa, the new man in charge of both the ANC and the country has a lot of work to do. One, he needs to unite his heavily divided party. This becomes imperative considering his slim margin of victory over Mr. Zuma's chosen successor at the December 2017 ANC Conference. Second, he will have to move fast to boost a declining economy and persuade South Africans that their wellbeing would improve under his ANC government.
Only time will tell if Ramaphosa, a billionaire business man, who has been Deputy President since 2014, has all it takes to reposition the ANC and also improve the fortune of his country. Since he became party leader last December, he has spoken compellingly against corruption and he is famous among A.N.C. leaders as a reformer. The months ahead will certainly decide whether he can actually walk the talk.
  Ogunbiyi is of the  Lagos State Ministry of Information and Strategy, Alausa, Ikeja

Load more