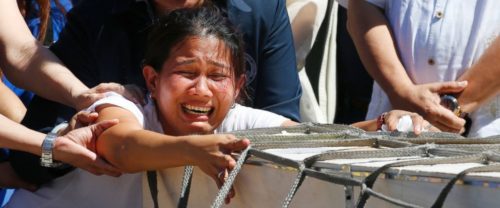 The body of a Filipino domestic helper found stuffed in a freezer in Kuwait was returned to the Philippines on Friday, as the government promised more support to its nationals working abroad.
The body of Joanna Demafelis, 29, was found in the freezer in an abandoned apartment in Kuwait on Feb. 14.
An autopsy revealed she was beaten up and suffered broken ribs, internal bleeding and contusions.
"Her death was very tragic, but will also be a rallying point for all of the government agencies to more aggressive abroad in helping overseas Filipino workers," said Foreign Secretary, Alan Cayetano.
Cayetano, who joined other government officials and Demafelis' relatives in receiving the victim's remains, said the government was working to step up assistance for Filipinos abroad.
"We're putting a system of communications with our millions of overseas Filipino workers abroad due to many cases of abuse," he said.
Labour Secretary, Silvestre Bello, earlier recalled the welfare officer of the Philippine Overseas Labour Office in Kuwait after Demafelis' family complained they did not receive assistance from her.
Bello ordered the recall after rejecting the explanation of Sarah Antonia Concepcion for failing to help Demafelis' family.
"Her explanation is that there was too much work," he said.
"That's not a good explanation. If you can't handle such work, you can leave. If you can't handle your job, come back to the Philippines."
The Philippines earlier ordered a total deployment ban to Kuwait on instructions of President Rodrigo Duterte, who condemned the abuses and maltreat of Filipinos in the Gulf state.
NAN reports on Feb. 9, President Rodrigo Duterte of Philippines asked private airlines to evacuate its nationals from Kuwait within 72 hours after the discovery of a Filipino migrant worker dead in a freezer.
An emotional Duterte live on television showed graphic photos of the body of a Filipina found in the freezer of an abandoned apartment in Kuwait and made a plea to Gulf states to treat his countrymen with dignity.
The tough-talking leader said his suspension on sending workers to Kuwait, announced in January after a series of deaths of Filipino workers, would remain indefinitely.
He warned of "drastic measures" to prevent further loss of lives. He did not say what that would be.
The Kuwait government could not immediately be reached for comment.
No fewer than 250,000 Filipinos work in Kuwait, the Philippine foreign ministry estimates, most of them as domestic helpers. There are also large numbers in the United Arab Emirates, Saudi Arabia and Qatar.
Authorities also said no fewer than 2.3 million Filipinos are documented as working abroad.
Collectively they remit more than two billion dollars of their income back to the Philippines every month, money that fuels consumer spending in one of the world's fastest-growing economies.

Load more