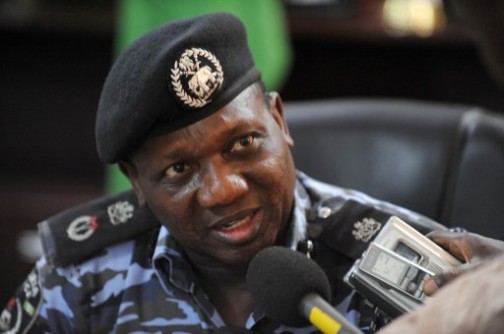 The Inspector General of Police, Mr Ibrahim Idris, on Thursday advised Nigerians to avoid making inflammatory statements and playing politics with the herders/farmers clashes to achieve genuine reconciliation.
Speaking during the launch of his book in Lagos, Idris said that the security challenges needed to be properly managed so as not to drag the country into unending crisis.
"This is the only way the country can secure genuine reconciliation among herders and farmers so that they can once again live in peace, harmony, love and avoid unnecessary loss of lives." he said.
The police I-G said that even though President Muhammadu Buhari mandated the security agencies to arrest and prosecute offenders in the clashes, the nation needed serious conversation on the issue.
"I have realised that the issue is beyond apprehension and prosecution of offenders: There has to be speedy dispensation of justice and the protection of the rights and interests of the suspects and victims of crime," Idris said.
According to the police I-G, this is the only way people will have a sense of justice, peace and reconciliation.
"It is my conviction that when there is security, justice, peace and reconciliation in any nation, civil strife can be avoided.
" Inter-communal harmony and reconciliation is easier when the people are convinced that the police and other security architecture can guarantee them their individual rights, security and justice," he said.
Idris said that the public image of the police was not impressive and called on policemen to respect the rights of the people while performing their lawful duties.
"While performing their constitutional duties of protection of lives and property, the police must do so within the confines of the law," the I-G said.
He said that he dedicated the book titled "Security and Justice: The Pathway for Peace and Reconciliation in Nigeria" to officers and men of the force for their selfless service.
Idris said that proceeds from the book would be used to fund "the Security and Justice Initiative," a foundation being put in place for the promotion of security, peace and reconciliation in Nigeria.
The I-G said that traditional rulers should be accorded rightful place in the security architecture, peace justice and genuine reconciliation of the people.
Speaking at the book launch, the Oba of Lagos, Oba Rilwanu Akiolu attributed the herdsmen/farmers clashes to the nation's porous borders.
The book reviewer, Prof. A.B. Ahmed, said that the 293-page book answered salient questions on security and justice and focused on the author's childhood and experiences as a policeman.
"This book is original, excellent and very important for everyone that wants the success of the country as it demonstrates the link between security, justice and human life," he said.
Among dignitaries present at the book launch were former Ogun Governor, Chief Segun Osoba, Lagos Police Commissioner, Edgar Imohimi and a representative of retired Maj. Gen. T. Y. Danjuma.

Load more