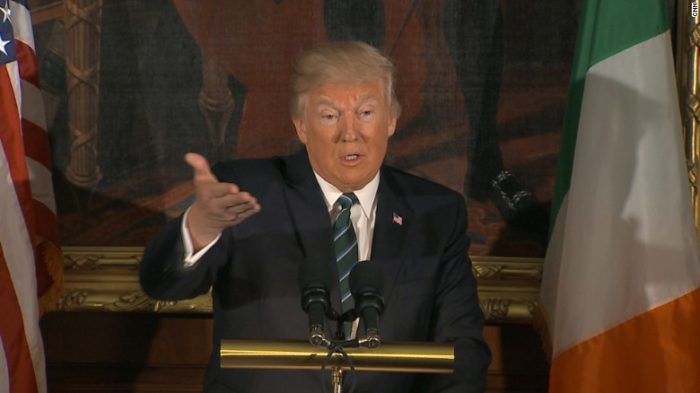 A U.S. appeals court in Virginia on Thursday ruled that President Donald Trump's latest travel ban targeting people from six Muslim-majority countries violates the U.S. Constitution by discriminating on the basis of religion.
The Richmond-based 4th U.S. Circuit Court of Appeals became the second federal appeals court to rule against the ban, which was announced by Trump in September.
The Supreme Court has allowed the restrictions to go into effect while litigation challenging the policy continues.
The high court is due in April to hear arguments on the legality of the ban and to issue a ruling by the end of June.
TheIranian Foreign Minister Javad Zarif had had on June 30 criticized the travel ban placed on citizens of his country by Trump as a "shameful exhibition of blind hostility."
The ban, which affects people travelling to the U.S. from six predominantly Muslim countries, including Iran, was introduced after the U.S. Supreme Court partially upheld Trump's executive order on June 26.
The U.S. judges amended the order to provide exceptions for anyone able to prove a "bona fide relationship" with someone already living in the U.S., such as a spouse, parent, child or sibling.
However, the exception does not extend to grandparents, aunts, uncles, nephews and nieces, hence Zarif's comments.
The Iranian Foreign Ministry had previously criticised the ban as discriminatory and racist.
The Supreme Court allowed the federal government to enforce the 90-day ban on issuing new visas for individuals from Iran, Libya, Somalia, Sudan, Syria and Yemen who have "no connection to the U.S. at all."
New approvals for admissions of refugees from all countries will be halted for 120 days.
The state of Hawaii filed a challenge to the ban.
It said that the government had "announced it intended to violate" the Supreme Court decision by taking a narrower view of the family relationships that qualify a foreigner to exemption from the ban.

Load more