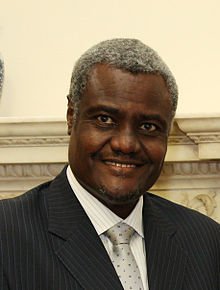 The African Union (AU) has deployed its election observers to Djibouti, for the legislative elections scheduled to take place on Friday in the Horn of African nation.
The Chairperson of the AU Commission, Moussa Mahamat, has deployed the AU Election Observation Mission (AUEOM)
led by Anicet-Georges Dologuele, former Prime Minister of the Central African Republic (CAR), according to a statement from the pan-African bloc on Monday.
The mission is composed of 38 members, including, ambassadors accredited to the AU in Addis Ababa, pan-African parliamentarians, heads of institutions in charge of elections and members of organisations of the African civil society.
The Members of the observation mission are drawn from 22 African countries, including, Benin, Burkina Faso, Burundi, Cameroon, Congo, Ivory Coast and Ethiopia.
Others are Gabon, Guinea, Madagascar, Mali, Mauritius, Mauritania, Central African Republic, Republic Democratic Congo, Rwanda, Senegal, Seychelles, Somalia, Chad, Togo and Tunisia.
The main purpose of the mission is to make an honest, independent and impartial observation and assessment of the
organisation and conduct of these elections.
The mission will meet with the political, administrative and judicial authorities of the country, the institutions
in charge of elections, the national actors involved in the electoral process and the representatives of the
international community in order to be aware of the arrangements made to ensure a free and credible elections
in the country.
The AU mission will deploy its observers to all the regions and districts of the country.
According to the AU, the mission will present its preliminary report at a press conference on Feb. 26, highlighting its observations and recommendations to the political authorities and other stakeholders.

Load more