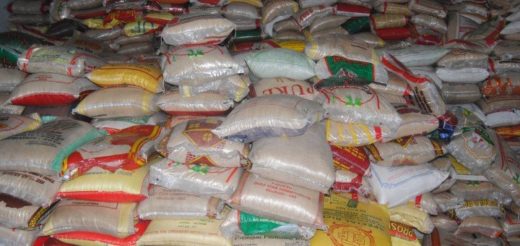 The Peoples Democratic Party (PDP) in Edo on Wednesday accused the Edo Government of diverting 4,721 bags of rice donated to the Internally Displaced Persons camp in the state by the Federal Government.
Chief Dan Orbih, the state Chairman of the party, made the allegation while receiving about 400 members of the All Progressive Grand Alliance (APGA) in the state who defected to PDP.
According to him, the Nigeria Customs Service had approved 6,822 bags of rice for the camp.
He also alleged that the state government proposed demonstration farm for unemployed graduates at Sobe in Owan West Local Government Area of the state was a hoax and conduit pipe being used to defraud the state.
He claimed that with more than N600 million supposedly spent by the government on the proposed farm, there was nothing on ground.
He, therefore, urged the people of the state to prevail on Gov. Godwin Obaseki to give an account of how he expended the money.
He further urged all eligible voters to get registered with INEC and obtain their Permanent Voter Cards in order to be able to cause a paradigm shift in the political situation in the state and the country at large.
He stressed that the PDP would remain in the forefront of any movement to liberate and salvage the state and the country.
Meanwhile, Chief Anselm Ojezua, the state Chairman, All Progressive Congress (APC), while reacting to the allegations, said they were unfounded.
READ: Fuel Scarcity: Charlyboy leads protest to NNPC headquarters
He dismissed as forgery the documents presented by Orbih on the NCS approval for the donation of rice to the IDP.
He said the PDP action was a ploy to distract a working government, adding that Obaseki's government would not give in to any distraction.
However, investigations revealed that while the Edo State government had taken delivery of all the items, only 2,101 bags of rice had been supplied to the camp.
A source at the International Christian Centre Missions (ICCM), where the IDPs were camped, who spoke on condition of anonymity, admitted that the camp received 2,101 bags of rice but declined further comments on the matter.
The source also said that management of the camp also received the document detailing the NCS approval of four items to be donated to the camp.
The source said the other items included 76 cartons of vegetable oil, 100 sacks of used shoes and another 20 sacks of used shoes.
Ihe balance of the items were reportedly shared for political patronage during 2017 Christmas festivity.
The leader of the All Progressives Grand Alliance (APGA) members who defected to the PDP, Mr Ojo Agge, said they decided to join PDP because they wanted to be free from bad government, bad infrastructure and poverty.

Load more