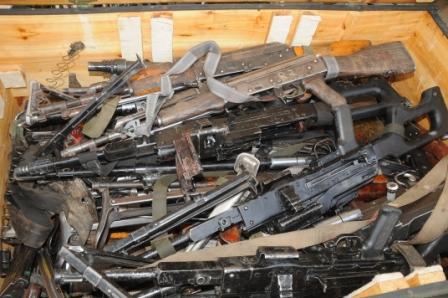 The Police Command in Anambra has set up a nine-member Task Force to enforce the directive of the Inspector-General (I-G) of Police, Mr Ibrahim Idris, that all illegal firearms and ammunition in the country should be mopped up.
Inaugurating the task force in Awka on Thursday, the Commissioner of Police, Mr Garba Umar, said the operation was targeted at full enforcement of the Firearms Act of 2004.
The I-G had issued a 21-day ultimatum directing that all illegally acquired firearms and ammunition be mopped up across the country.
He listed the firearms to include artillery, apparatus for the discharge of any explosives of gas diffusion projectiles, rocket weapons, bomb and grenades.
Others are: machine guns and pistols, military rifles, revolvers and pistols, pump action gun of all categories as well as any other firearms, weapons fabricated to kill.
READ: Nigerian Navy impound 3,574 bags of smuggled rice in Calabar
Umar urged members of the public as well local security guards, town unions, hunters and any groups or associations under any capacity to surrender such prohibited arms before the expiration of the ultimatum.
He appealed to the people of the state to support the efforts to enforce the directives.
The commissioner warned that anyone who failed to heed to the directive would be arrested and prosecuted.
He urged the Chairman of the task force, Mr Baba Maiyaki, an Assistant Commissioner of Police, to carry out the order without fear or favour.