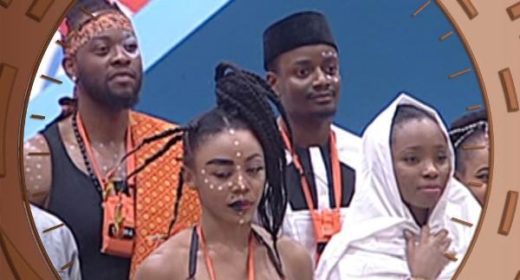 Big Brother Naija (BBNaija) `Double Wahala' housemates, delivered an elegant performance to emerge successful in their latest task, after a week of preparation for the exhibition of Nigerian art, music and culture.
They also won their first 100 percent wager after the task presentation aimed at celebrating Nigerian heritage and culture on Thursday night.
Housemates put in their best wagered performance by performing acts ranging from theatre and music to dance and art all embodied in a truly unique and significant Nigerian way of life.
The housemates were criticised for shabby performances in previous weekly tasks.
However, during the presentation, `Biggie', owner of BBNaija House, said all housemates performed well and also adjudged that the pair of Nina and Teddy A, stood out with their presentation of music in Igbo language.
Nina, a graduate of Imo state university, thrilled viewers with her African goddess outfit and ability to produce an Igbo song.
Also, her partner Teddy A dressed up in an Igbo cultural attire, embraced diversity by using his talented voice to mesmerise the viewers with musical performances in Igbo language.
The housemates took turns to showcase their distinctive performances with the pair of Bam bam and Rico (Bamco) taking the stage to represent the Western and the Northern culture of Nigeria through the presentation of Nigerian dishes.
Bam bam, who is from a typical Yoruba background in Ogun state, managed to slot into the role as a Yoruba bride to her Northern husband Rico.
Bamco had the task of performing a pantomime about a Northern Nigerian husband and a Western Nigerian wife.
As a Yoruba bride, Bam bam took honour in depicting her cultural identity by serving her Northern Nigerian husband a typical Yoruba soup known as Efo-Riro (Mixed Vegetable).
The pair of Ahneeka and Angel (Gelah) showcased the Nigerian fashion by using the green natural environment to create a concept of outfits designed with green leaves and flowers.
Gelah's creativity has been applauded by Nigerians who thought showcasing our agricultural potential was creative.
A fan of the show Eric Orji told newsmen that Gelah's performance was the most creative among the others. He said "Nigeria is rich in agriculture with vast farm lands; creating awareness like this is impressive".
READ: Check Out Kylie Jenner's Banging Body After Child Birth
The housemates have evidently been creative this week and the pair of Tobi and Alex (Tolex) was no different from the others.
Tolex used their initiatives to show off paintings of rural Nigeria, inspired by some famous rural environment.
While explaining the thoughts behind the paintings Tobi said "art can be used to express anything".
The pair of Cee c and Lolu who recently witnessed their understanding as strategic partners reached an all time low as a result of disagreements between each other, put their differences aside to produce an educating theatrical performance.
Irrespective of their differences, the pair worked together to show the diversity in Nigerian culture through a short play.
The script required Lolu to act as Cee c's uncle and also depicted Cee c as a niece who wanted to go abroad because she wanted to be a "slay mama" and Nigeria was not good enough for her.
Lolu advised her by claiming "home will always be home" citing the achievements of some prominent Nigerians in the movie and music industry such as Pete Edochie, King Sunny Ade and Ebenezer Obey.
The winner of the 78-day contest will be given N45 million cash prize and a brand new SUV car.
BBNaija, introduced in 2006, is a special Nigerian version of the continental show Big Brother Africa.