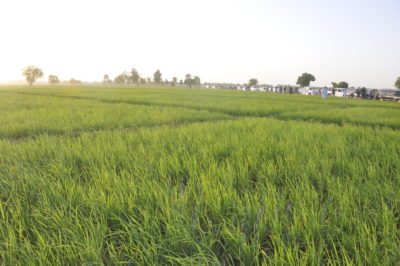 More than 40, 000 rice farmers are to receive farming inputs from the Federal Government in Kebbi and Zamfara for dry season farming, local officials said on Monday.
In Zamfara, Chairman of Rice Farmers Association of Nigeria (RIFAN), Alhaji Ishaq Ajiya-Anka, said 5,403 rice farmers would receive the inputs within the week.
According to him, five cluster distribution centers in the state have been set up with locations in Gusau, Shinkafi, Bukkuyum, Dansadau and Talata-Mafara.
According to him, all the necessary inputs, including organic fertilizer, seeds, herbicides, NPK and urea fertiliser, sprayers and pumping machines, are in place and stored at the designated centers.
"However, we could not commence distribution today (Monday), because we have not received the margin cards from service providers which will serve as the benefiting farmers identification," he said.
READ: Katsina state Govt. inaugurates investment board to boost investment drive
Nevertheless, Ajiya-Anka stated that the association plans to encourage farmers to plant crops three times in a year to maximise production.
"Following the sensitization of our members on the benefits of the scheme, rice farmers in the state are now fully prepared to start off.
"I want to appeal to the state government to improve security in all farm sites to ensure conducive farming environment," he said.
Ajiya-Anka commended the Federal Government for the introduction of the Anchor Borrower Programme to guarantee food security in the country.
In Kebbi, RIFAN chairman, Alhaji Sahabi Augie, said 39, 000 rice farmers would benefit from the scheme, even though the dealers had not supplied the required inputs to the designated distribution centers in the state.
He also said that the farmers expect to receive fertiliser, seeds, herbicide, sprayers, chemicals and pumping machines.

Load more