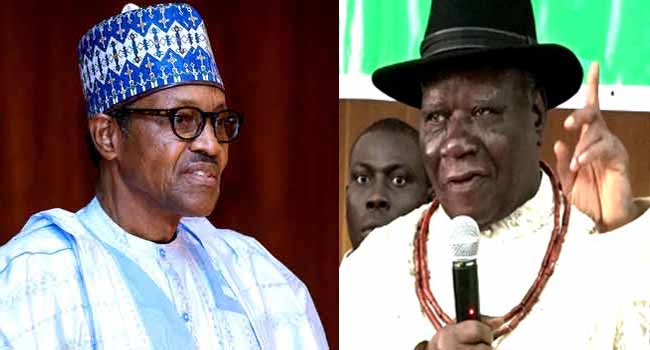 The Presidency has responded to a former Minister of Information, Edwin Clark, who asked President Muhammadu Buhari to declare a state of emergency in the three north-eastern states of Adamawa, Borno and Yobe states.
Reacting to the elder statesman's demand in a Skype interview with Channels Television, Special Adviser to the President on Media and Publicity Mr Femi Adesina said declaring a state of emergency is not enough to win the war against Boko Haram insurgency.
"Under President (Goodluck Jonathan), state of emergency was declared in those three states, what did it achieve?" he questioned, adding "that is already telling you that it goes beyond a state of emergency."
Addressing reporters earlier in Abuja, Mr Clark was optimistic that declaring a state of emergency in the states would go along way in curbing the activities of terrorists in the troubled North East region.
The elder statesman, who also condemned the abduction of 110 schoolgirls by the insurgents in Yobe, had also accused the state governor as well as that of Borno and Adamawa of failing in their duties as chief security officers of their states.
Hours later, Mr Adesina insisted that the Federal Government has a totally different approach to fighting the insurgency.
He said: "What should happen is bringing a decisive and final end to the insurgency raving those states and by the grace of God, we are almost there."
The presidential aide, who announced earlier in a statement that President Buhari would be visiting some troubled state in state country, explained the rationale behind the visits.
According to him, "The President is going to those states to visit everyone; all stakeholders are going to be invited for meetings – traditional rulers, farmers, herdsmen, community leaders."
Adesina denied claims that the visits were delayed for political reasons, noting that the President has decided to embark on the visits after studying the reports of the delegations he sent to the states.
He further noted that President Buhari took immediate needed steps to address the issues, including the security of the affected communities.
-Channels tv