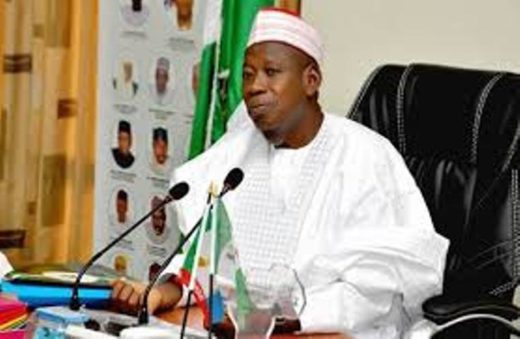 Kano State Governor, Dr Abdullahi Ganduje, on Tuesday pledged to deploy the state's population to stimulate the economy and ensure growth and development.
He also pledged to offer women equal opportunities to attain their potentials in life.
Ganduje made the remarks on Tuesday when he visited 150 young men and women sponsored by his administration for skills training at Peugeot Automobile of Nigeria (PAN) in Kaduna.
Out of the 150 trainees, 100 are males, and 50 females.
"Population can be a liability, but we are making our population an asset, and the best way to make our population to be an asset is by developing skills acquisition among our youth.
"We assure you, we are training you not only for you to work but also to employ others.
"This government is very serious on women empowerment; days are gone when women still rely on meagre resources.
"We want you to be earning good income, it is necessary for women, that is why we are exposing them to all kinds of legitimate trades so as to earn a living.
"Once you are earning good income; it will contribute to peaceful co-existence with your husbands and families and that is what this government is doing.''
The governor disclosed that the government has built a N5 billion skills acquisition centre to empower and create enabling environment for sustainable skills in the state.
Ganduje said his dream was to make Kano the hub of international trade attracting investors and traders from across the globe to the city.
The governor faulted the current curriculum in the country's education system, saying it can no longer sustain Nigeria's manpower development needs.
"So we want to break from that, the only way we can do it is to modify our curriculum.
"To see that we have identified the necessary skills we need in our day-to-day activities, so that youth will embrace skills and be trained, that is the only way to ensure sustainability in terms of employment in the country," he said.
He said that the state government had commissioned a study which identified 24 trades which would offer gainful employment to the youth.
"That is why we decided to build an ultra modern skills acquisition centre in Kano worth N5 billion.
Earlier the Managing Director of PAN, Mr Ibrahim Boyi said the company was training the second batch of trainees from the state, with the first batch having 75 participants and 150 in the second batch.
"The Governor during the graduation of first batch, promised that the second batch will include girls and women, and you can see clearly, the direction of the government in ensuring youth empowerment on inclusive bases, so that nobody is left behind.''
Boyi assured the governor that PAN would give the students the best training they deserve.