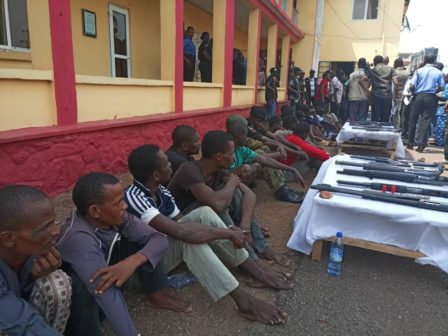 Adejoke Adeleye/Abeokuta
There was a mild drama at the Police headquarters, Eleweran, Abeokuta Ogun State when a 45-year old mother-of-five, Ashile Basirat, confessed that she started duping people because she had once been duped.
Basirat was paraded alongside 33 other suspects by the Ogun State Police Command for allegedly conspiring with 'one chance' transporters to dupe passengers.
Narrating their mode of operation, the suspect revealed that members of her gang would act as passengers in a taxi, pretending to be waiting for one more passenger, and once a passenger entered their vehicle, they would tell him or her that there was money in the booth which could not be spent because it was spiritually locked and they need to go and unlock the money at a priest's place so they would be able to share the money.
Her words, "They would say there is money in the booth of the car that is spiritually locked and needs to be unlocked by a priest and whoever follows them to where the money would be unlocked and contributed would get his or her money in double fold."
"When the person agrees, he or she would be brought to me, while I pretend to be an Ifa Priestess (Iya Alawo),"she said.
She disclosed that her victims are too numerous to count as she started the act in 2011 after she was duped in 2010.
"I have been duped in the past, that was why I engaged in fraud and I am not the only one.
"My husband refused to show up when I was arrested because he was once a member but no longer participate in our activities. He was unaware of my last operation.
"My children urged me to stop and I promised them I was going to stop; I ventured into trading, as I was selling provisions but it did not yield the desired profit, so I decided to go back to defrauding people," she said.
While parading the suspects, the state police commissioner, Ahmed Illiyasu said his men arrested members of the syndicate who are specialists in hypnotising members of the public after a tip-off.
"After hypnotising them, they take them to nearby Automated Teller Machine (ATM) point where they are told to withdraw their money. Thereafter, the victims are dispossessed of their money," the police boss said.
Ilyasu added that members of the syndicate specialized in driving commercial taxi cabs which they used in picking their unsuspecting victims.
He warned that his command would not wait for criminals to come out in the open but that his men would take the battle to the hideouts of the criminals.
Also paraded was a notorious cult member identified as Kehinde Akande popularly known as 'Abacha' in his group.
"Abacha is a member of the 'Aiye' confraternity. He met his waterloo during an attempt to attack a rival cult group, 'Eiye' over an alleged stolen phone belonging to a superior member of the Aiye team," he said.
Other suspects paraded include the General overseer of a church in Iba, Lagos, Daniel Onwughufor and his accomplice. They specialised in car snatching and armed robbery.
Also paraded was an alleged rapist identified as Adam Alfa and robbery suspects identified as Umoru Ibrahim, Lukman Sodunke, Oyinboade Abiodun, Jimoh Igbon (a.k.a Popo), Adeyemi Yemi and Segun Ikudaisi.
Items recovered from them include pump action guns, locally made pistol, live cartridges, assorted charms, cars and motorcycles.