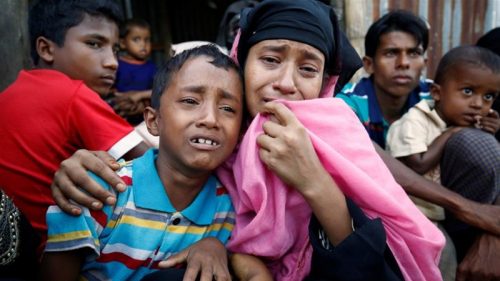 Myanmar's military on Wednesday denied "one-sided accusations" made by British lawmakers in a letter to the EU Foreign Affairs Council recently detailing major human rights abuses against minority Rohingya Muslims in Rakhine State.
According to a statement posted on Commander-in-Chief Min Aung Hlaing's Facebook page, the Myanmar army acted in line with the existing military and civilian laws during the Rakhine crisis.
"Myanmar army investigations found security personnel did not commit extrajudicial killings or sexually abuse and rape women and there was no unlawful detention of people, beating, killing and arson as well,'' it said.
The EU recently announced it was preparing targeted sanctions against senior military officers in Myanmar over "serious and systematic human rights violations" in the country, following the UK's letter.
Almost 700,000 Rohingya have fled military operations to Bangladesh, bringing with them tales of killings, rape, and arson by Myanmar security forces.
The UN assistant secretary general for human rights, Andrew Gilmour, said on Tuesday that ethnic cleansing was continuing in Myanmar.
"It appears that widespread and systematic violence against the Rohingya persists,'' Gilmour said after visiting refugee camps in Bangladesh.
"Min Aung Hlaing's response shows how afraid the military are of justice and accountability," Mark Farmaner of Burma Campaign UK told newsmen.
Farmaner, however, urged the British government to support the UN in referring Myanmar to the International Criminal court.
The military's statement maintained that "illegal Bengalis" were responsible for violence in Rakhine State, using a term preferred by the majority of Myanmar to infer Rohingya are illegal immigrants from Bangladesh.

Load more