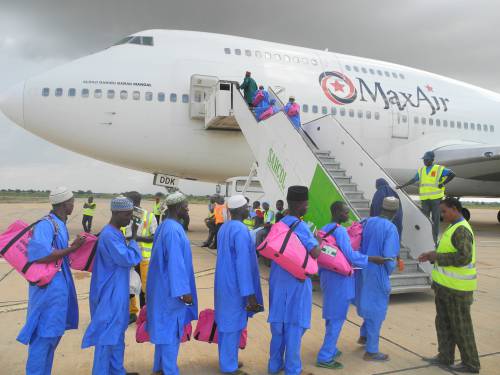 The National Hajj Commission of Nigeria (NHCON) has called on intending Muslim Pilgrims from Gombe State to be ready for biometric data capturing for this year's Hajj.
Alhaji Abdullahi Muhammad, the Chairman of the commission, made the call in Gombe on Thursday while addressing Hajj officials and intending pilgrims on the preparations for this year's exercise.
The chairman, who was represented by his Commissioner of Operations, Alhaji Abdullahi Sale, said that the biometric data was compulsory for all intending pilgrims.
He said that the new measure was a directive form the Kingdom of Saudi Arabia along with the payment of 2,000 Saudi Riyals equivalent of N163, 000 by each pilgrim that had travelled to the holy land before.
According to him, NAHCON is trying its best to ensure that this year's hajj fees will not exceed that of last year.
Muhammad advised intending pilgrims to complete their payment before the end of the March deadline.
READ: IGP summoned over Dapchi Girls' abduction
He said that the delay in announcing this year's fees was not from the NAHCON as the commission had concluded negotiations in the holy land on flight and hotel payments, among others.
Alhaji Sale Muhammad, the Chairman of Muslim Pilgrims Welfare Board, Gombe State, pledged to intensify the sensitisation programme for intending pilgrims to acquaint them of the new development.
"It's something that is a bit tedious because the three centres for this biometric data capturing of finger prints is in Kano, Abuja and Lagos and if you see the number of pilgrims that we have.
"Almost 95,000 pilgrims will go to Saudi Arabia this year and we only have three centres.
"You can imaging the congestion; every intending pilgrim has to go to one of the centres to get captured which is going to bring a very big problem", he said.
He said that most of the pilgrims were from rural areas and would going be difficult for them.