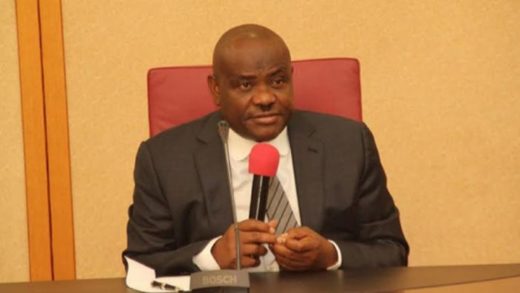 Okafor Ofiebor/Port Harcourt
Rivers State Governor, Nyesom Wike has vowed to bring a former Majority Leader of the State House of Assembly, Dr. Chidi Lloyd to justice for alleged attempted murder.
Wike stated this while addressing the people of Omuma Local Government Area before flagging of the construction of Umueze-Umuogba-Umuokpurukpu-Umueke- Umunju-Umuellechi-Eberi road in Omuma LGA of the state.
He however added that Lloyd would be prosecuted under a different law.
A statement released by Simeon Nwakaudu, Special Assistant to the Rivers State Governor, Electronic Media quotes the Governor as saying : "Chidi Lloyd will be charged to court under a different law. He cannot escape justice".
This reaction came few hours after Lloyd, who is an APC Chieftain in the state berated the neigbourhood watch bill championed by the state governor.
Llyod, in a current affairs programme on Rhythm 93.7fm Port Harcourt had said among other things that "Neighbourhood watch as proposed by the Rivers State government, I have no issues with it but the provisions therein… it won't bring about peace but exacerbate it. People should study the provisions contained in the neighborhood watch bill.
"That was how "Bakassi"started. We cannot afford to make our kids glorified arm bandits. You cannot give me wine in a poisoned chalice… People calling in to call me a criminal and a murderer, I keep saying it that what happened in the house was cause and effect. I have long apologised to my brother, the Rivers State government has long withdrawn the case, why call me names? That not withstanding, I will still speak out".
The Governor has proposed to establish a state sponsored Vigilante called Neighbourhood Watch. But concerned citizens, led by the opposition are criticising it because of the aspect of the Bill that proposes that members of the Neighbourhood Watch would be allowed to bear arms, search premises of suspects, ahead of the 2019 general elections.
Dr.Lloyd is alleged to have attempted to murder a State Lawmaker, Mr Michael Chinda using the mace on the floor of Rivers State House of Assembly in July 2014 when five pro-PDP lawmakers attempted to impeach the Speaker of the House of 32 members and later impeach the former Governor Chibuike Amaechi which was largely frustrated by Lloyd who had a bitter fight with his fellow law makers.
The Rivers Police Command under the contoversial Commissioner of Police, Mbu Joseph Mbu,had dragged Lloyd to court charging him fo attempt murder.
However, the Rivers State Government under Amaechi had dropped the case through the state former Attorney-General and Commissioner for Justice, Wogu Boms,who dropped the charges stating that the state was no longer interested in prosecuting the case.