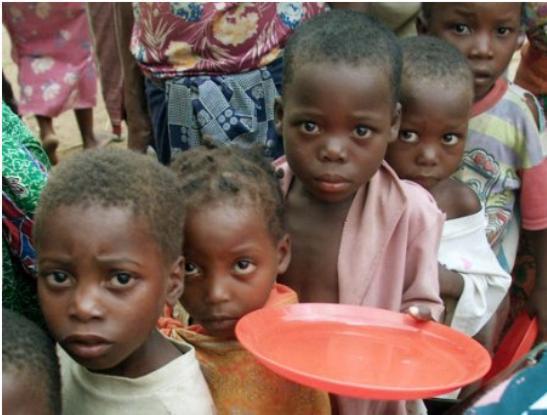 The UN on Friday warned that two million children in the Democratic Republic of Congo(DRC) are at risk of dying from severe acute malnutrition if they do not get the aid they need.
UN humanitarian chief Mark Lowcock will meet donors next week in the country where conditions in many areas are worsening, UN spokesman Jens Laerke told a Geneva briefing.
"We have a great responsibility in the DRC…now is the time to stay the course," Laerke said.
The two million children at risk of starvation include some 300,000 children in the Kasai region, Bettina Luescher of the UN's World Food Programme said.
Conflict has forced 1.7 million people to flee their homes in the Democratic Republic of Congo this year, causing "a mega-crisis", aid agencies say.
DRC has been hit by years of instability, with rival militias fighting for control of territory.
The conflict has been worsened by the failure to hold elections last year.
In a new report, the Internal Displacement Monitoring Centre said that an average of 5,500 people fled their homes every day this year.
The reasons include new armed conflicts, a rise in existing conflicts and the delay in holding elections, the report said.
In spite of there being four million displaced people, as well as more than seven million struggling to feed themselves, international aid has been slow to materialise, Ms Blom said.
"If we fail to step up now, mass hunger will spread and people will die. We are in a race against time," she warned.
DR Congo's Minister of Information, Lambert Mende, has however disputed the aid agencies' report, saying that the number of the displaced people is "less than one million".
He told BBC's Focus on Africa programme that the displaced people were, contrary to the report, returning home from neighbouring countries
The number of displaced people is shocking – even if it is disputed by the government.
Local conflicts in several parts of the country – in particular the new crisis in the greater Kasai area – are all rumbling on as a gruesome backdrop to the national crisis over elections and whether President Joseph Kabila will leave power.
President Joseph Kabila took power in 2001 following the assassination of his father, Laurent Kabila.
He has won two elections and the constitution bars him from running for a third term.
Kabila's critics say the poll has been delayed so that he can remain in office.
Kabila's government has been battling new conflicts in the last year, including in the central Kasai region where violence broke out after the government refused to recognise a traditional chief.

Load more