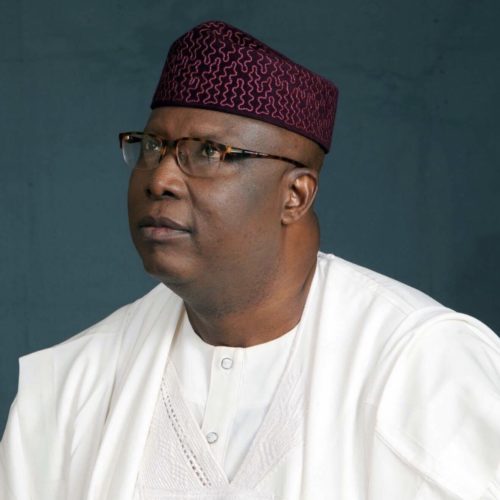 Gbenro Adesina
Senator Babafemi Ojudu, Special Adviser to President Mohammadu Buhari on Political Matters, on Friday formally declared his interest to contest the forthcoming governorship election of Ekiti State slated to hold on July 14, 2018.
He made his intention known at a rally held at Ado Ekiti, the State Capital. Senator Ojudu will be contesting under the auspices of the All Progressive Congress, APC, party.
The colourful occasion, which was witnessed by a mammoth crowd, had juju maestro, Saheed Osupa and Small Doctor on the bandstand dishing out songs to the delight of the crowd.
While declaring his intention, Ojudu was apt to reveal his plan for the state and the residents.
He said, "Today, I declare my desire to be the next governor of our state. Today, I ask you to join me in bringing sense back to our government house. Today, I ask you to join me in bringing better jobs to the state. I call on you indigenes and residents to join me aboard our train of progress. If you want a better life for your children, join us and let us make our state a pacesetter state. I know that the journey cannot be easy because we will have to climb mountains but our work will not be in vain".
He promised that his administration would give priority to education, health, infrastructure, agriculture, asking, "With the resources that this state is endowed with, why are we so poor? Why are we this broke and have become a laughing stock? Why has our land become a land of grieve and pains? Can we continue like this? No, we cannot. This is the reason why I am telling you that the time has come to rescue our state from the oppressors and the time has come for the voices of our people to be heard."
Ojudu, who assured the people that the administration of the outgoing governor, Ayodele Fayose would be probed, stated that it is time to vote out corrupt leadership in the state saying, "Say bye bye to Fayose and his useless government".
The governorship aspirant promised that during his tenure if elected, he would not demolish houses, but respect the traditional rulers,and pay workers' salary, as well as pay pensioners' allowances, and make life better for the people.
He further cautioned the sitting governor against any act of hooliganism, assuring that he would do anything to protect his supporters.
Ojudu, born 27 March 1961, is a Nigerian journalist who was elected Senator for the Ekiti Central constituency of Ekiti State, Nigeria, in the April 2011 national elections. He ran on the platform of the Action Congress of Nigeria, ACN.
He attended Ado Grammar School in Ado-Ekiti, between 1973 and 1977 after which he proceeded to to the University of Ife, Ile-Ife to study English. He also attended the University of Lagos between 1985 and 1986, where he studied for a Master's degree in Political Science.
Before venturing into the murky water of politics, he worked at Guardian Newspaper and Concord Newspapers where he rose from a reporter to the position of editor. He later joined his professional friends to establish Independent Communication Network Limited, ICNL, parent body of many reputable titles in Nigeria including: The News Magazine, and PM News.