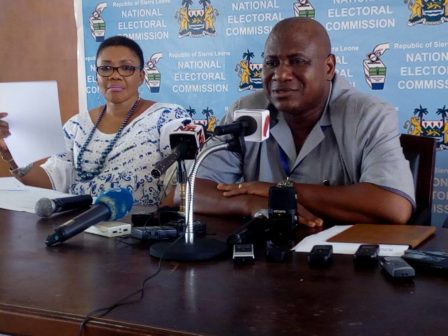 The Sierra Leone National Electoral Commission (NEC) on Friday conducted officials of political parties and some observer groups round its results management facilities and Tally Centre in Freetown.
NEC was expected to release the official results of Sierra Leone's March 7 general elections any time from now.
A statement issued by Mr Paul Ejime, the Spokesman of ECOWAS Network of Electoral Commission (ECONEC) and a member of the ECOWAS observer Mission, made this known in Freetown.
He noted that the action followed a meeting at the NEC warehouse, during which NEC Chairman Mohamed Alie-Conteh and Commissioner Miata French addressed issues raised by the political parties on the processing of the results.
"Observer groups represented at the meeting were ECOWAS, AU, EU and the National Elections Watch (NEW).
"ECOWAS Head of Mission Prof. Amos Sawyer was represented by Commissioner for Political Affairs, Peace and Security Gen. Francis Behanzin and Head of UN Office for West Africa and the Sahel, Dr Mohamed Chambas ."
The Sierra Leone NEC Chairman has promised that the Commission would produce and announce elections results that are credible and acceptable.
A presidential candidate must receive 55 per cent of the total valid votes cast to win the elections.
If no candidate reaches 55 per cent, the two candidates with the most votes will participate in a 'runoff" or second round.
In this case, the runoff is concluded according to a simple majority or' First Past the Post" (FPTP) system.
This means that the candidate who receives the majority of valid votes in the second round is declared the winner.
In all other types of elections, the simple majority/FTTP system is used to determine winners.
In Parliamentary elections, there are 112 constituencies in the country and one member is elected from each constituency.
They may run either as members of any of the registered political parties or as independent candidates.
In the election of Chairs and mayors, 19 chairs contested to head the 19 local Councils, into which Sierra Leone is sub divided.

Load more