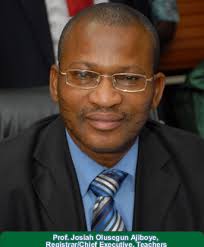 Gbenro Adesina/Ibadan
The Registrar of Teachers Registration Council of Nigeria, TRCN, Professor Segun Ajiboye has painted a better day for the Nigerian teachers, saying that the Federal Government has budgeted the sum of N100m for teachers' welfare in 2018.
Ajiboye stated this at the weekend in Ibadan, Oyo State while participating on a guest forum platform of the Oyo State Correspondents' Chapel adding that the gesture was in appreciation of teachers for human development in the country.
He stressed that there is no way a teacher who is denied of his entitlement would be committed to his job, Ajiboye urged debtor-governors to ensure that the welfare of Teachers without delay.
On competency tests being organised by governors for teachers, Ajiboye maintained that Nigerian Teachers were not afraid of competency tests, pointing out that the Nigerian Union of Teachers, NUT, had assured that its members would participate in such tests as organised by TRCN which is the regulatory body empowered to do so.
Ajiboye who vowed to revolutionise the teaching profession, said that the council had been contracted by the Kaduna State governor to organise test for teachers in its Secondary schools, saying the agreement is being finalised.
He, however, expressed worries and sadness at the kidnap of over 100 pupils in Dapchi, Yobe state by suspected insurgents calling on government to enhance security for teachers and pupils in terror zones.
"TRCN has become a household name. When I took over the TRCN website was down. Now the website is perfectly functional and interactive. To appreciate our teachers, we have set aside the sum of N100m in 2018 budget to do that. Teachers must be appreciated for their contributions. This is why is saddens one to see states owing Teachers. Debtor-states should pay teachers their dues. Teachers who receive no payment cannot give their best to teaching.
"TRCN certificate has become one of the criteria for being engaged as teacher nationwide showing the embrace of TRCN nationwide. The collaboration we enjoy from the NUT and others have been a strong pillar for TRCN. I am not happy at the killing of Teachers and abductions of pupils in terror zone. I appeal to the federal governor to increase security for education communities in terror zone so as not to engender fear in the heart of those genuinely interested in learning and doing their job," he said.

Load more