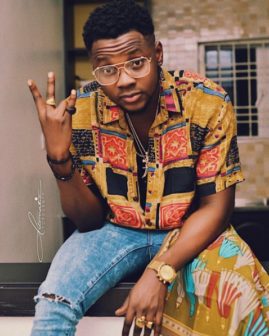 Nigerian Music and Noollywood movies are currently making waves in Sierra Leone's entertainment industry, especially in Freetown, a survey by the News Agency of Nigeria (NAN), has revealed.
A NAN correspondent, who was in Freetown to monitor the country's general elections reports on Sunday that Nigerian music was being played in most of the commercial taxis, radio and television stations.
Mr Osman Kargbo, a businessman and resident of Freetown, told NAN in an interview that he loved listening to Nigerian music as well as watching Nollywood movies.
"In music, Nigerian artistes especially Davido, Wizkid and other famous artistes like Mr P and Rude Boy (former P Square) are perfect, they know how to sing and their beats are also good.
"I appreciate them, their music is very classic, nice, perfect and good to listen to not only the beats but also the lyrics make sense. So I like Nigerian music.
"The music videos are prefect also, I have a lot of them, I always download the latest ones. Like those of Davido, Tekno, Olamide and the others.
"As soon as they post it on YouTube, I will get it immediately.
"Like the one Davido produced two weeks ago, `Flora' I really enjoy it. The performance is really nice,'' Kargbo said.
On Nollywood movies, Kargbo rated them as also; `very nice'.
"The one that is turning Sierra Leoneans on now is `Delilah', many of the movies are so nice to watch,'' he said.
Asked who his favourite actors are, Kargbo listed Kenneth Okonkwo, Mercy Johnson-Okogie and others, but noted that Okonkwo and Johnson-Okogie remained top on his list.
Some taxi drivers who also spoke with NAN said they loved playing Nigerian music in their cars to entertain passengers who also loved the music.
One of them, who simply identified himself as Isa, said Nigeria music was the most popular in Sierra Leone entertainment industry.
Sierra Leoneans love Nigerian music a lot. My phone is full of Nigerian music. The artistes know how to sing, they know how to sing well in pidgin (broken English).
"For me, I really enjoy the music; I have 85 per cent of them.
"I like Flavour, Timaya, Whizkid, Tekno; and in Nollywood, I love Olu Jacobs.
Mr Sam Omaru, a Hotel Worker, said that Nigerian music and Nollywood movies had no doubt dominated the country's entertainment industry.
"Nigeria music, (secular and gospel) is dominating Sierra Leone.
"In the parties, wedding ceremonies, everywhere it is Nigerian music; even in churches, Nigerian music is being played.
"When it comes to movies, Sierra Leoneans are also in love with Nollywood, I think Nigerians are trying when it comes to entertainment.
"I have a lot of Nigerian music and movies at home,'' Omaru said.
Abubakar Dumbuya, an IT (Multi-Media) expert, said; "Nigerian music is so nice as they sing to the style of people.''
He named Kiss Daniel as his most favourite artiste.
"I love him so much and I love most of his songs.
"I have so many Nigerian music and videos in my laptop and phones.''
Sali Koroma, audio and video CDs retailer, said that the patronage for Nigerian music in the country was high as most of his customers often requested for Nigerian music.
"They are the ones dominating Sierra Leone, na them get Sierra Leone. All over the country, na Nigeria music them dey play.''
He listed some of his favourite artistes to include Timaya and Tekno.
Mr Alusine Contih, a Record Mixer, popularly known as DJ Topman, described Nigerian music as one of the most listened to music in Sierra Leone.
"People prefer Nigerian music to our local music because Nigerian music has story line.
"I love Davido, Tekno, Timaya, Kiss Daniel and P. Square. Most people also go for their music.
"We download their music from WhatsApp, Facebook and YouTube, and do selection CDs to sell,'' Conteh said.
He added that as a DJ, any event he was invited to, he must play Nigerian music or there would be complaints by his clients.
"For now, it is kiss Daniel that is reigning in Sierra Leone because of `Ayiba' and `No do', his two new releases.
Meanwhile, a Nigerian residing in Freetown, Emmanuel Nwosu said he always felt proud whenever he heard Nigerian music being played in that city.
"I feel proud and happy because Nigerian artistes are making us proud, not only in Sierra Leone but also in West Africa, I pray they sustain the tempo,'' he said.