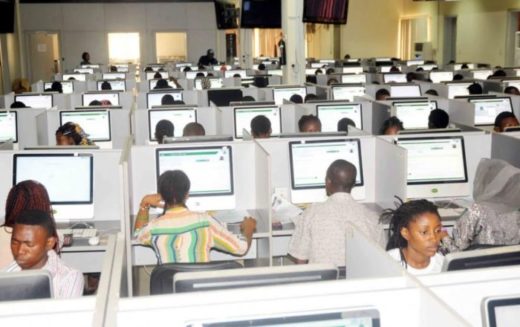 The ongoing Unified Tertiary Matriculation Examination (UTME), Computer Based Test (CBT), has been going on without any hitch at the University of Nigeria, Nsukka (UNN) centres.
The supervisors in separate interviews with newsmen in Nsukka on Monday said since Friday, March 9 that the exams started there had been no problem.
Mrs Stella Onuwa, Deputy Director, JAMB and Supervisor for UNN Digital Library, a centre for CBT, said since the exam started it has been smooth as candidates have conducted themselves in an orderly manner.
"There is no problem in this centre, no exam malpractice has been recorded from any candidate; everything has been smooth and peaceful.
"Candidates have been orderly and obeying every instructions given to them," she said.
Onuwa said that the computer facilities being used for the exam have been working perfectly well as no candidate had reported of any system failure or malfunction.
Mrs Doris Enoch, supervisor for CBT centre, MTN section of UNN library, said the exam had been going smoothly with constant electricity supply while the computer systems are functioning well.
READ: 100 candidates missed UTME exam in Adamawa – Official
Enoch said the centre had adequate security  provided by  the civil defense and UNN security department.
"I am happy everything is moving smoothly and I pray it will continue like this till March 17 when the  examinations will end," she said.
Jennifer Eze and Mike Ozioko UTME candidates, who wrote  CBT on Monday commended JAMB for giving them a enough time, good computers and ensuring steady power supply.
The system I used was perfectly okey as I did not experience any hitch during the exam," Ozioko said.
"I commend JAMB for putting things in order in this exam,  I pray to have a good score to get admission because this is my third time of writing JAMB, "Eze said.
Load more